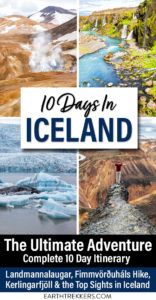 Iceland…this is the land of active volcanoes, glacier-capped mountains, steaming hot springs, black sand beaches, gigantic waterfalls, the northern lights, and the midnight sun. Hiking trails and gravel roads crisscross these unique landscapes, creating the ultimate wonderland for those in search of adventure. If you have 10 days in Iceland, we have a thrilling itinerary to share with you.
With 10 days in Iceland, journey into the remote Highlands, go hiking in Landmannalaugar, walk on the largest glacier in Europe, and hike the amazing Fimmvörðuháls trail. You still have time to visit a few of Iceland's biggest highlights, including the Golden Circle, south coast sights, and Reykjavík.
This Iceland itinerary is perfect if you love hiking and the outdoors, if you want to see some of Iceland's best landscapes, and if you like the idea of traveling by 4×4 into Iceland's remote interior.
About This Iceland Adventure Itinerary
This itinerary needs to be done between mid-June and September. It's a narrow window of time, but this is when the hiking trails and F-roads (the gravel roads that head into the highlands of Iceland) to Kerlingarfjöll and Landmannalaugar are open.
You will need to rent a 4×4. A 4×4 is a vehicle that is authorized by the rental car companies to be driven on F-roads. Many of these vehicles are SUV's with AWD or 4×4 capabilities. For example, we rented a Kia Sorrento through Hertz and this was authorized as a 4×4 that could be driven on F-roads.
This itinerary includes our four top experiences in Iceland: the Fimmvörðuháls hike, Landmannalaugar, the glacier walk, and Kerlingarfjöll. With 10 days in Iceland, you also have enough time to go scuba diving or snorkeling at Silfra, tour the Golden Circle, spend some time in Reykjavík, hike to Glymur waterfall, and see the highlights along the south coast.
How to Use This Map: Click the tab in the top left hand corner of the map to view the layers (daily itinerary and the driving route). You can click the check marks to hide or show layers. If you click the icons on the map, you can get more information about each point of interest.
If you click the star next to the title of the map, this map will be added to your Google Maps account. To view it on your phone or computer, open Google Maps, click the menu button, go to "Your Places," click Maps, and you will see this map on your list.
10 Days in Iceland: Ultimate Adventure Itinerary
Day 1: Arrive in Iceland, Visit Reykjavík
Total Driving Distance and Time: 50 km, 45 minutes
Flights to Iceland arrive at Keflavík International Airport, which is located on the Reykjanes peninsula. Pick up your 4×4 rental car at the airport. Lines can be very, very long, especially midday in the summer months. I'm talking an hour wait or longer. If you have gold member or fast pass status with a rental car company, this can save you lots of valuable time.
Once you have your vehicle, drive to Reykjavík. This afternoon and evening are the only time you have to explore the city, in order to have enough time for everything else we have listed.
Reykjavík is a cool city, but the best of Iceland isn't found in its cities and towns. The best of Iceland is found in its landscapes and waterfalls and glaciers and hiking trails, and they are calling your name.
Places to visit in Reykjavik include Hallsgrímkirkja church, Harpa concert hall, shopping on Laugavegur Street, the Sun Voyager sculpture, and the Perlan Museum.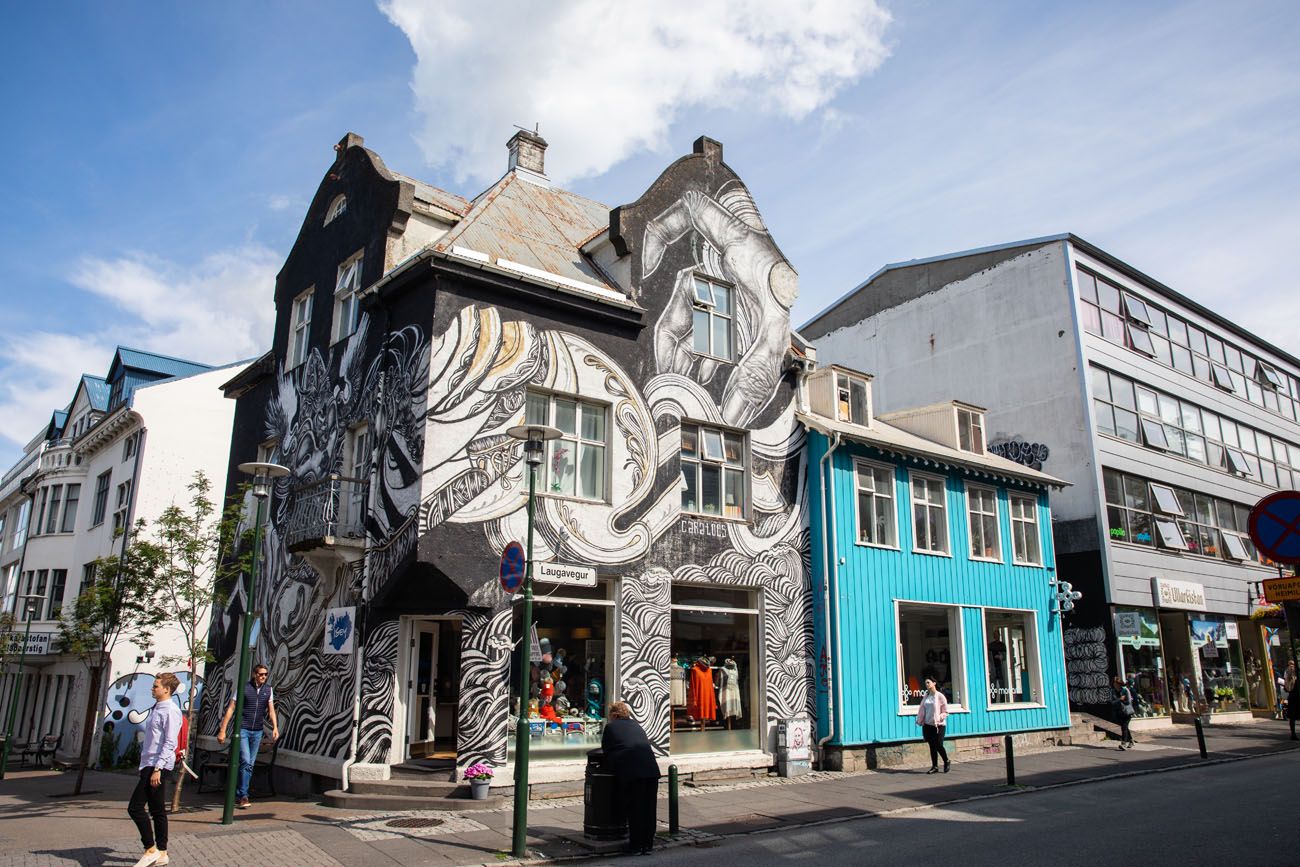 Spend the night in Reykjavík.
Where to Stay in Reykjavík
Reykjavík Residence Apartment Hotel. Rooms can accommodate up to 6 people in suites, one-bedroom, and two-bedroom apartments. This hotel has an excellent location within walking distance of Reykjavík's top spots.
House of the Snowbird. This is a historic house located in downtown Reykjavík. Stay in a one-bedroom apartment with a dining area and small kitchen. From here, it's a bit of a walk to Hallgrímskirkja, but you are close to the waterfront.
Loft – HI Hostel. This highly-rate hostel features a rooftop terrace, private rooms and dormitory-style rooms, and is located in the heart of Reykjavík.
---
Day 2: Glymur Waterfall
Driving distance and time: 215 km, 3.25 hours
In the morning, hike to Glymur Waterfall. Glymur waterfall is Iceland's second tallest waterfall. You can only get to it by hiking, and what a fun hike it is. This short hike features a cave, two river crossings, and many amazing views of Glymur waterfall.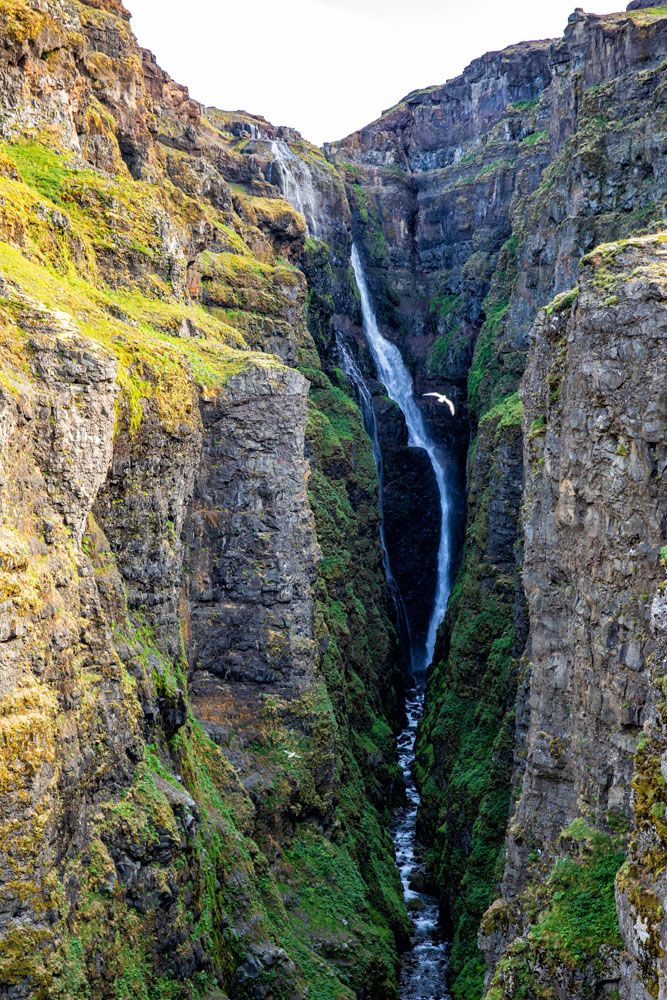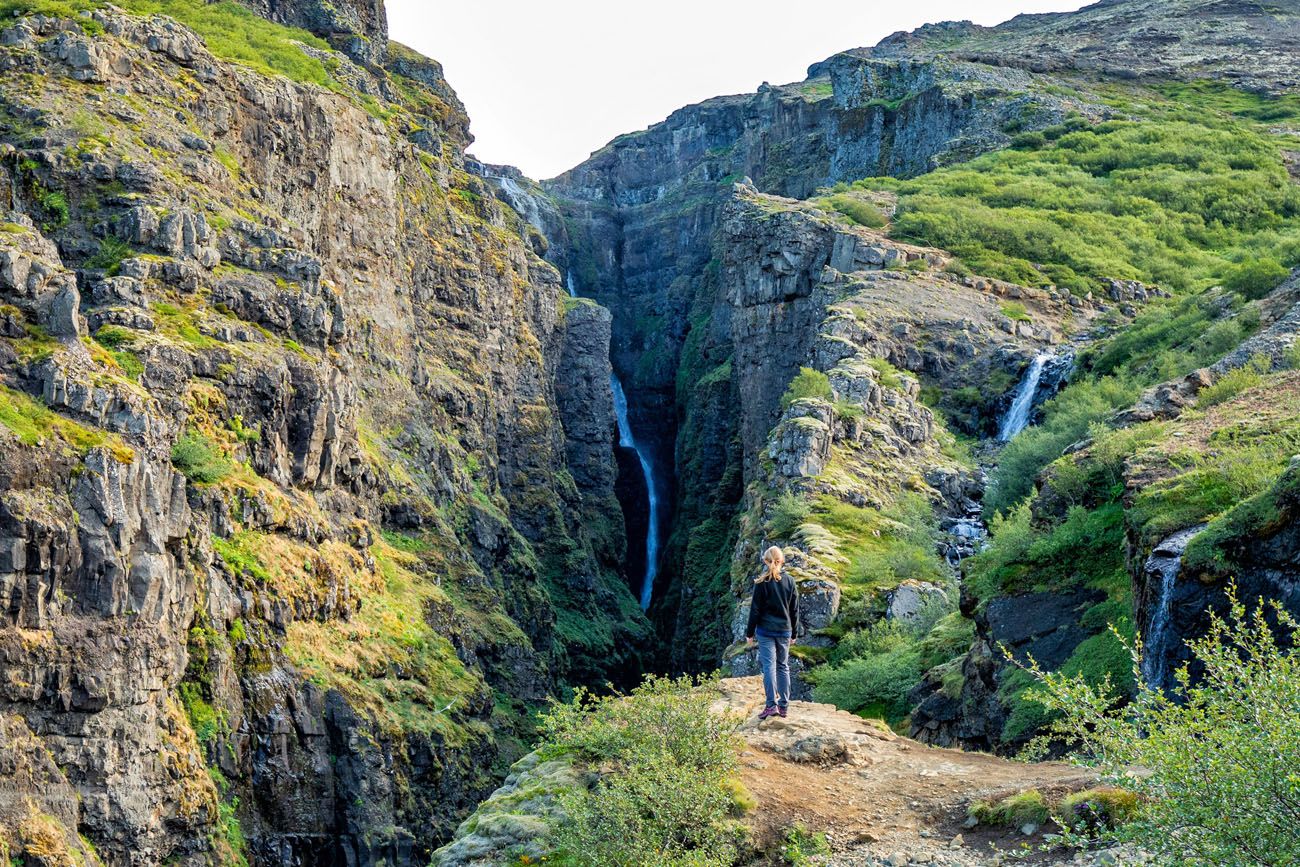 In the afternoon, you will have enough time to visit some or all of the sights on the Golden Circle, depending on how fast you move. The Golden Circle is a loop that connects three of Iceland's most popular spots: Gullfoss, the Geysir Geothermal Area, and Thingvellir National Park.
To visit all three of these places, it takes about 5 to 7 hours, depending on how quickly you move.
I recommend visiting Thingvellir National Park and Geysir today, and saving Gullfoss for day 5. On day 5, you will drive right past Gullfoss on the way to Kerlingarfjöll, so it is more time efficient to visit this later during the trip.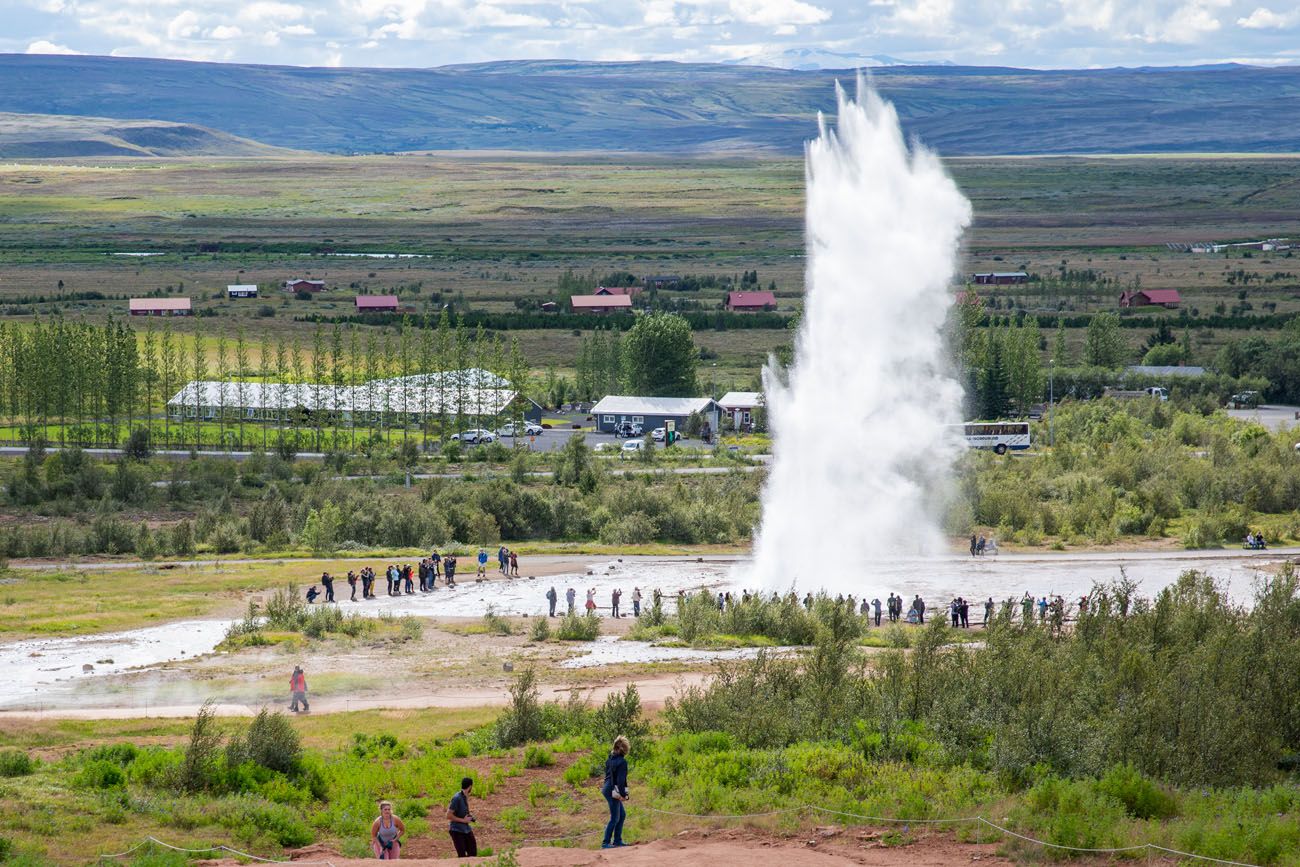 Geysir geothermal area
If you are doing very good on time, you can add on one or more of these destinations:
Bruarfoss is waterfall that is famous for its sky blue color. You can only get here by hiking and it takes about 3 hours to visit Bruarfoss.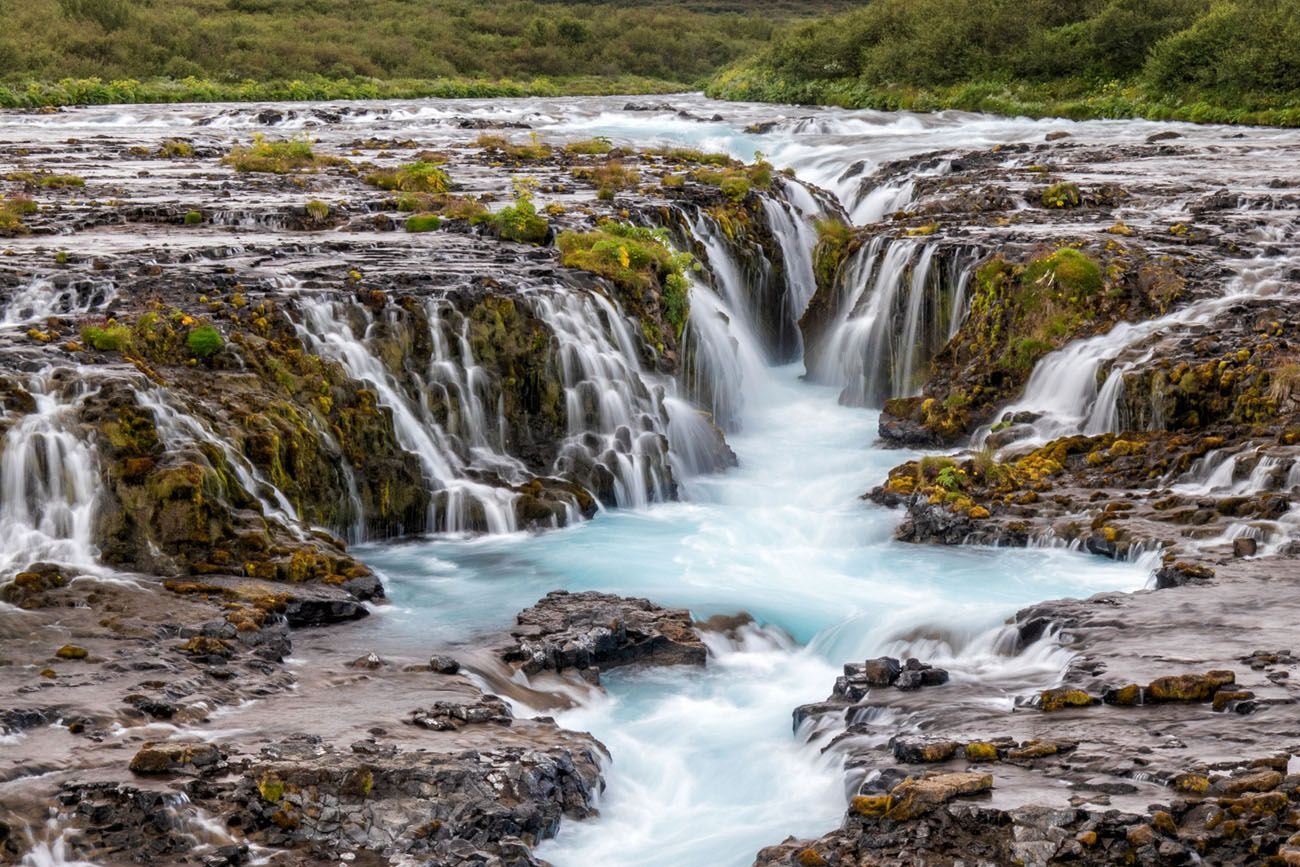 The Kerid Crater is a 3,000-year old volcanic crater that is filled with water. This is a quick and easy add on to your Golden Circle tour.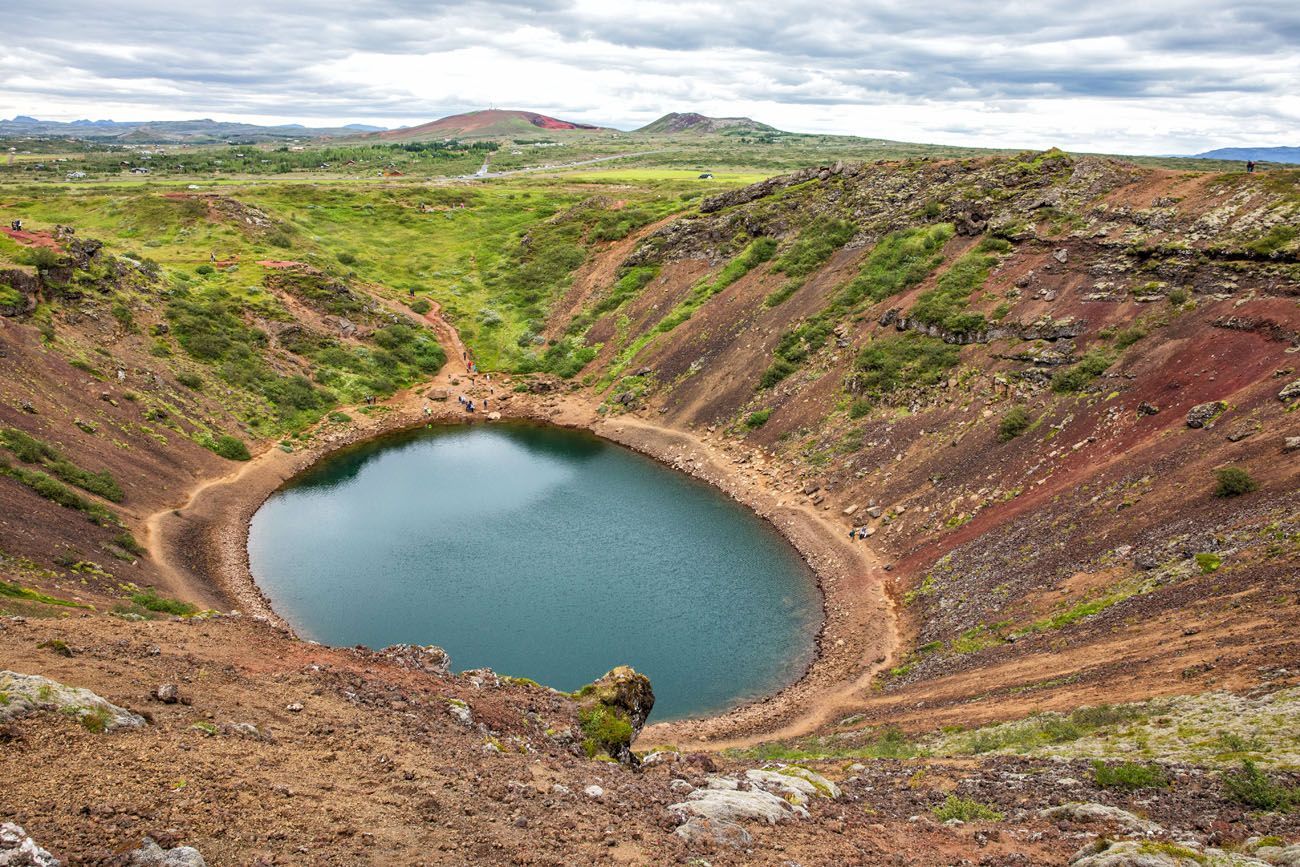 The Secret Lagoon is a hot spring that has become so popular that it's no longer a secret. But if you like hot springs, this is a good one to visit.
This is a lot to do. What you don't get to today, you can add onto the Silfra snorkeling/scuba diving day (day 4).
Sleep on the Golden Circle. You will spend three nights at this accommodation, as this area makes a great home base for the day trips we have planned.
Where to Stay on the Golden Circle
Arbakki Farmhouse Lodge. This lodge offers rooms that can accommodate up to four people. It has an excellent location, near Reykholt and just a short drive from the Golden Circle sights.
Heradsskolinn Historic Guesthouse. This boutique hostel is located in a former school building. Stay in a private room or a dorm. There is an onsite bistro that serves breakfast, lunch, and dinner.
Mosas Cottages. Stay in your own "vacation home," small, detached houses that can accommodate up to six people in two-bedroom cottages. This property is located in Fludir.
Where we stayed: We stayed at Guesthouse Fludir and did not have a good experience. We had two standard double rooms with a private bathroom. What they don't tell you is that there are two levels of these rooms. If you are on the bottom level, as we were, your view is of a gravel parking lot and all night long you will hear the people above you walking around. The upper rooms are wonderful. For the same exact price, they have a gorgeous view and a balcony, but there is no guarantee that you will get this, as we learned on our visit. It's not worth the risk of getting stuck on the bottom level. I recommend looking elsewhere.
CAMPSITE & RV PARKING: Laugarvatn Camping
---
Day 3: Landmannalaugar Day Trip
Total Driving Distance and Time: 240 km, 4.5 hours
Day trip into Landmannalaugar, one of Iceland's best places to go hiking. The landscape, with the multi-colored rhyolite mountains and lava fields, looks like something from another planet. Even if you aren't big into hiking, this is something to see.
I recommend getting started early (start your drive by 8 am) in order to give yourself plenty of time in Landmannalaugar. This day trip will take the entire day, especially if you plan to hike several of the trails and add on one or two waterfalls on the drive back to the Golden Circle.
This will be your first experience on this itinerary driving on Iceland's F-roads. From the Golden Circle, there are two different ways to drive to Landmannalaugar. We drove the easier route, F26 to F208, and these roads are paved most of the way to Landmannalaugar. It is just the final 26 km that you drive on a rough, gravel road. For full details on the routes, read our Landmannalaugar Guide.
Once in Landmannalaugar, there are a lot of hikes to choose from. The Blue Peak was our favorite hike, followed by the hike up Brennisteinsalda, aka the Sulphur Wave. You can combine these two short hikes into one epic hike.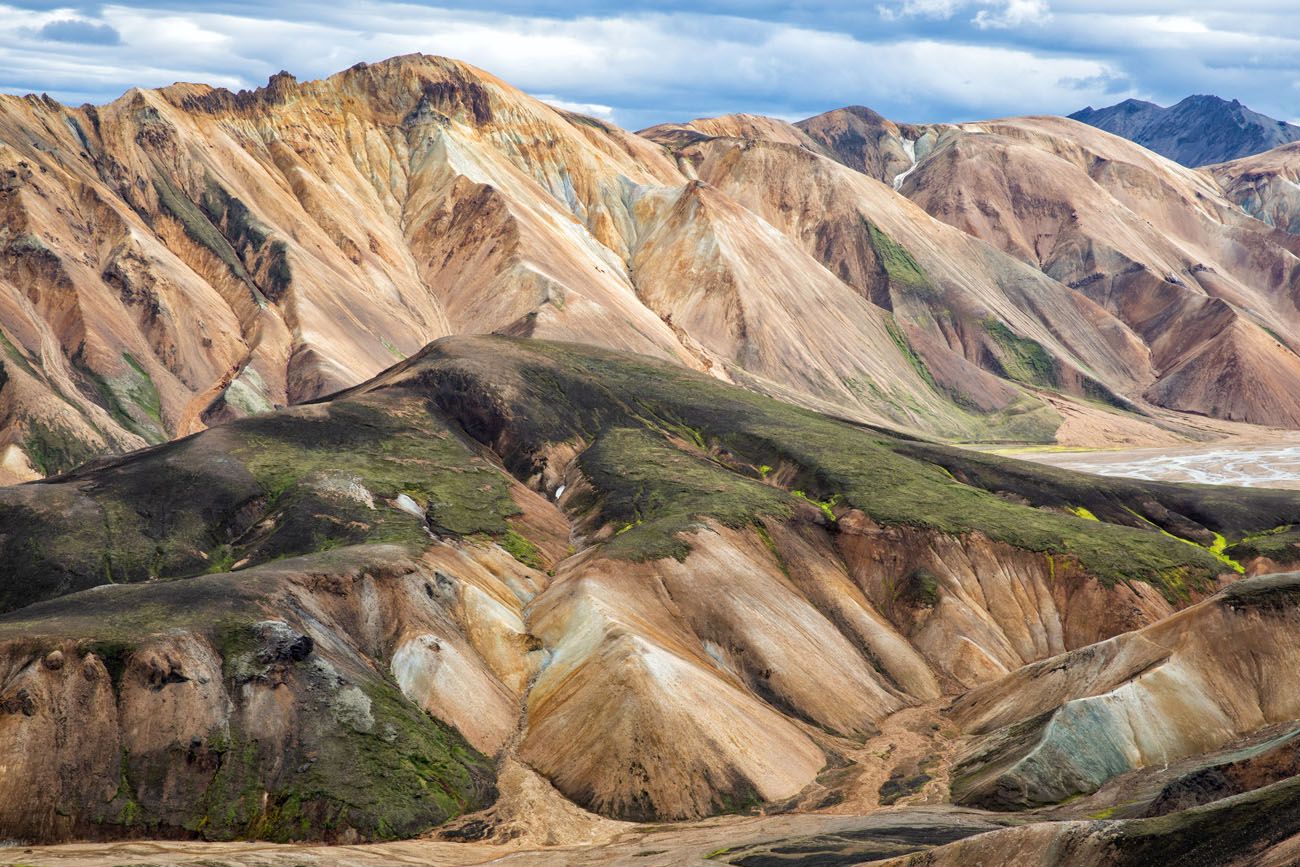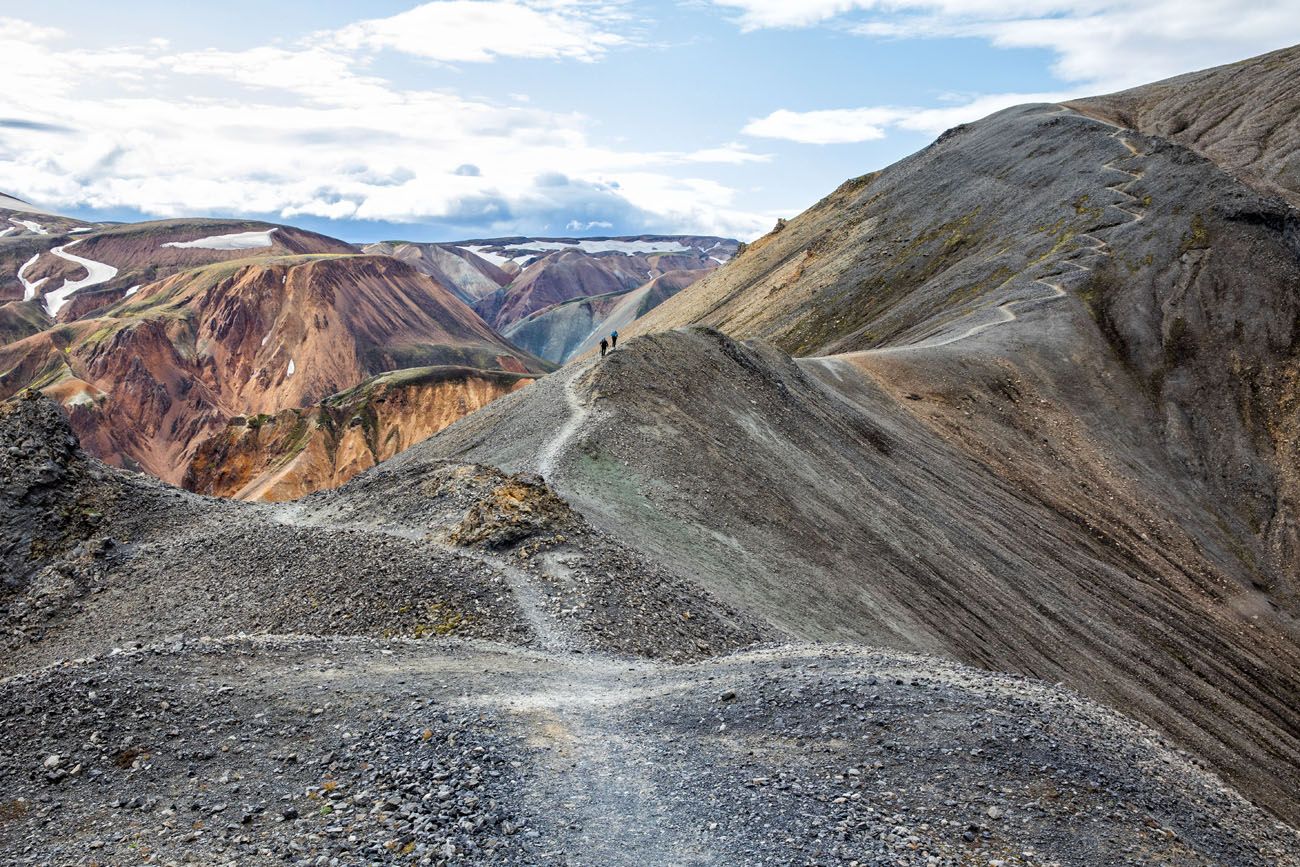 For a full list of hikes and other things to do in Landmannalaugar, with information on how to get here, where to eat, and tips to have the best experience, read our Essential Landmannalaugar Guide.
On the drive back to the Golden Circle, there are two spectacular waterfalls to visit.
Sigöldugljufur is a canyon with a stunning wall of waterfalls. It is located right on F208. You will literally drive right past it, but since it can't be seen from the road, most people have no idea what they are missing. Park in the small parking lot and it is a 1 km (0.6 mile) flat walk to this viewpoint. This detour adds 45 minutes to an hour onto your day.
Haifoss is one of the tallest waterfalls in Iceland. In the early 20th century, it was believed to be the tallest waterfall in Iceland, earning it the name "high waterfall." Now, it is thought to be the fourth tallest in Iceland.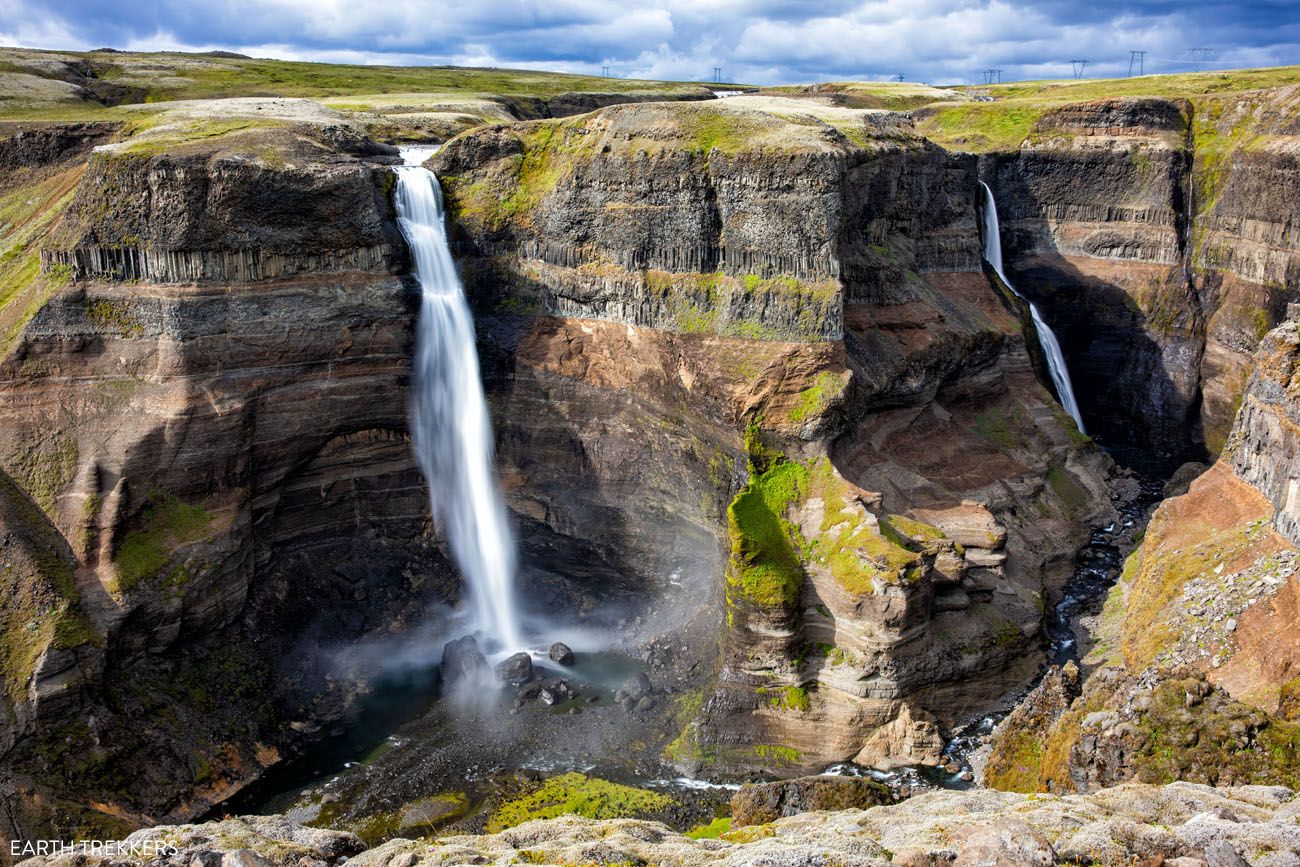 Haifoss is located off of route 32, on the drive back to the Golden Circle. Turn right onto F332 and drive 7 km to the parking lot for Haifoss. This F-road was one of the roughest roads we drove on in Iceland and a 4×4 is necessary to get here.
Sleep on the Golden Circle.
---
Day 4: Scuba or Snorkel at Silfra
Driving Distance and Time: 125 km, 2 hours
Iceland is the only place in the world where you can dive between two tectonic plates.
Silfra is a crevasse that has opened between the North American and Eurasian tectonic plates. This fissure is filled with crystal clear (and very cold!) glacial water. With a visibility of over 100 meters, Silfra attracts snorkelers and scuba divers from around the world.
If you are a certified scuba diver, you can dive in Silfra. To stay warm, many divers wear a dry suit, so you will either need a Dry Suit Diver Certification or take a course once in Iceland. If you do not have a scuba certification, you can snorkel in the fissure while wearing a dry suit.
People who do this rave about it. This is still on our bucket list for Iceland, but it sounds so interesting that I couldn't leave it off of this itinerary.
However, if swimming in icy cold waters does not interest you, skip Silfra and use this day to add more time to Reykjavík or to do something else in Iceland.
With the remainder of your day, visit sights in or around the Golden Circle that you didn't get to earlier on this itinerary.
Sleep on the Golden Circle.
---
Day 5: Kerlingarfjöll
Driving Distance and Time: 105 km, 2 hours
Kerlingarfjöll, located in the central highlands of Iceland, is a geothermal wonderland of steaming vents, boiling mud pools, and rainbow-colored hot springs.
From start to finish, this feels like a true adventure.
From the Golden Circle, visit Gullfoss, if you haven't done so yet.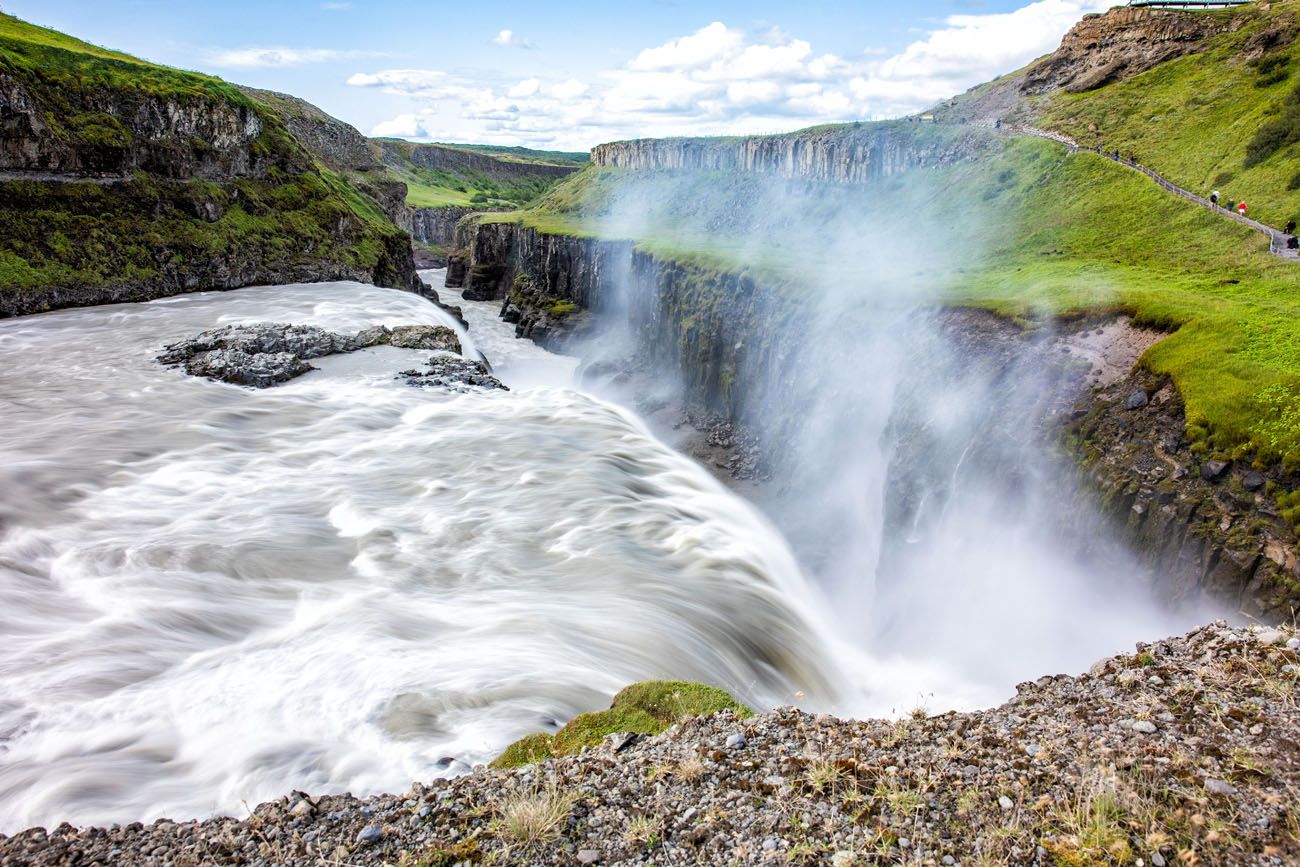 Just past Gullfoss, the paved road becomes a gravel road. Take F35 to the interior of Iceland. Wide open spaces, distant glacier-capped mountains, and a very empty road…these are the things you will see on this drive. It really feels like you are in the middle of nowhere. When we did this drive, we saw only 4 other cars.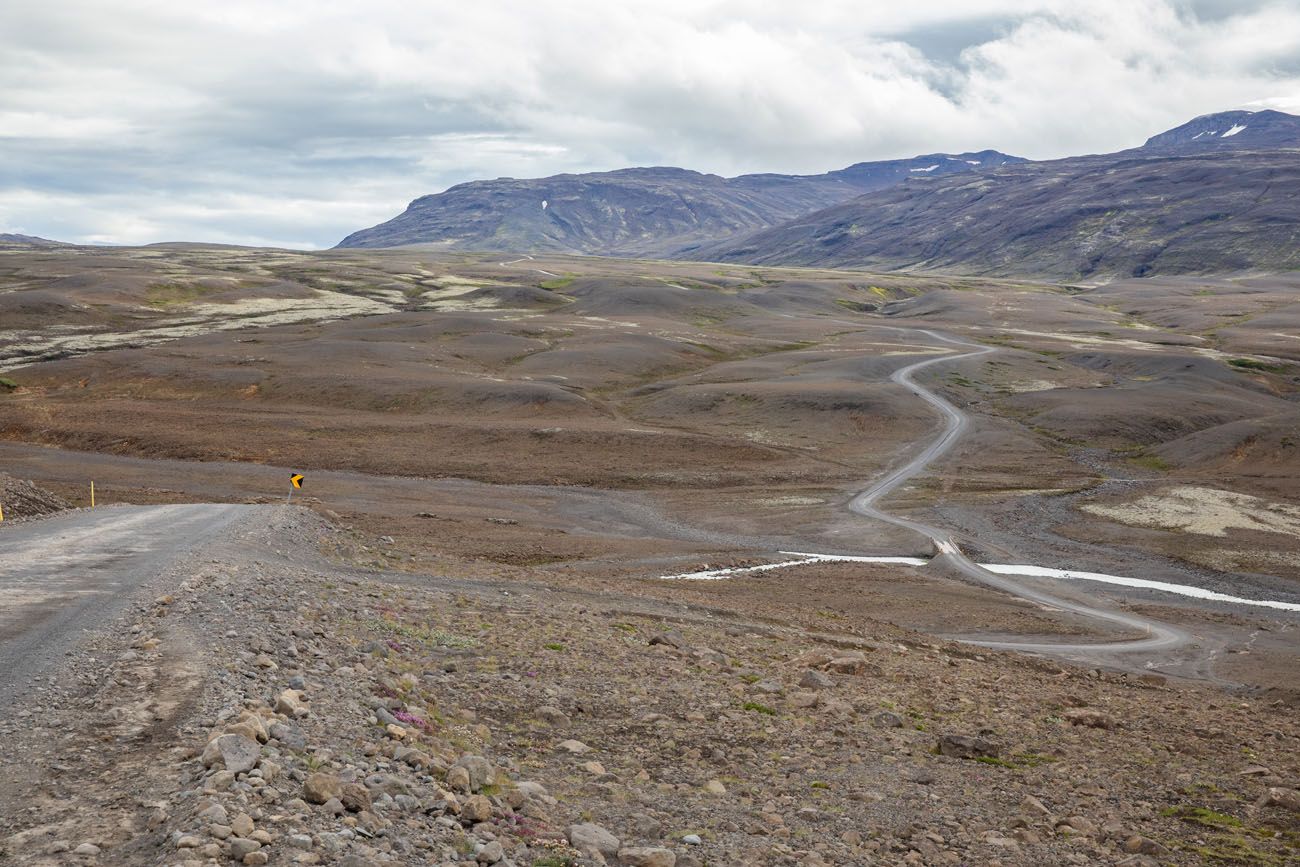 Once in Kerlingarfjöll, spend the day hiking the trails. There are several to choose from, but the highlight for many visitors is the Hveradalir geothermal area. This is the place to see steaming fumaroles, bubbling mud pots, and the multi-colored mountains.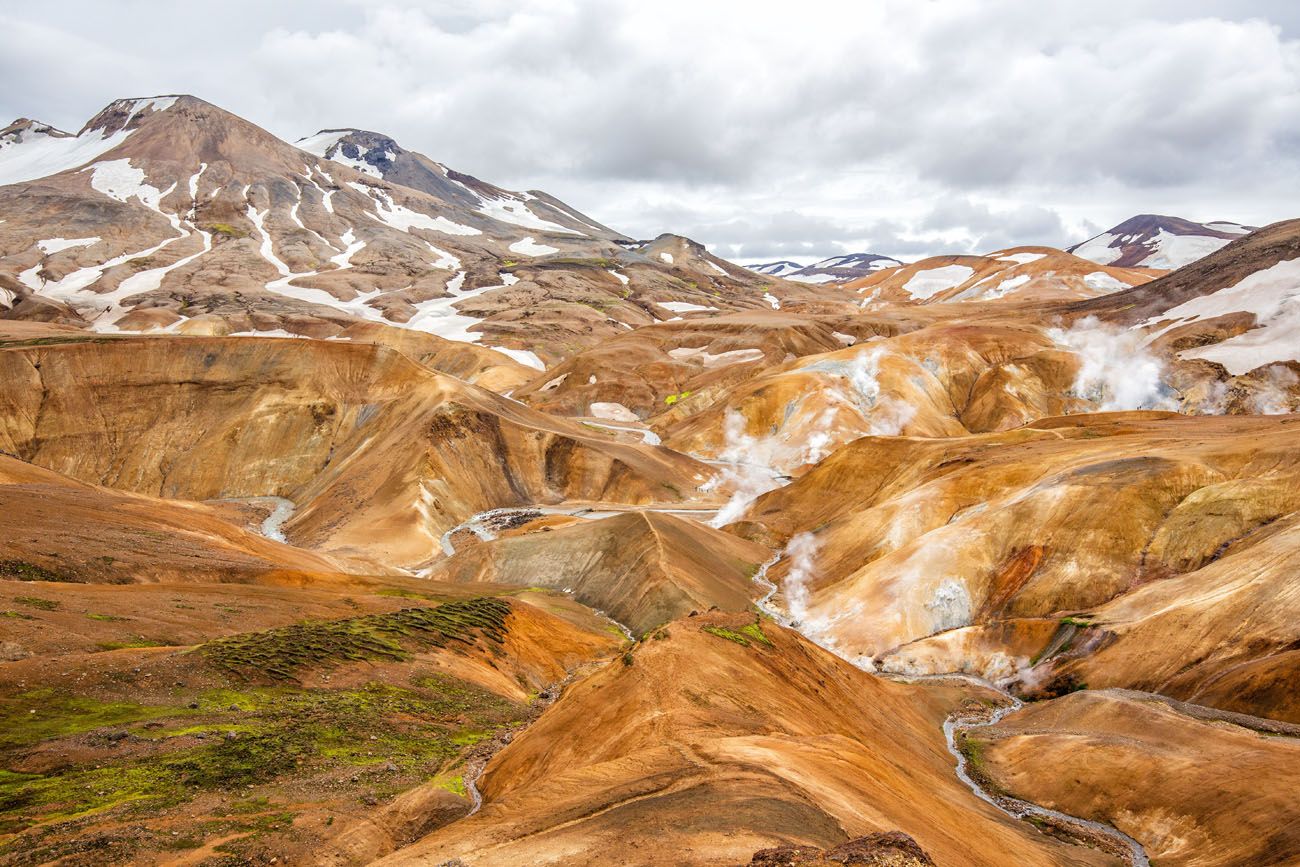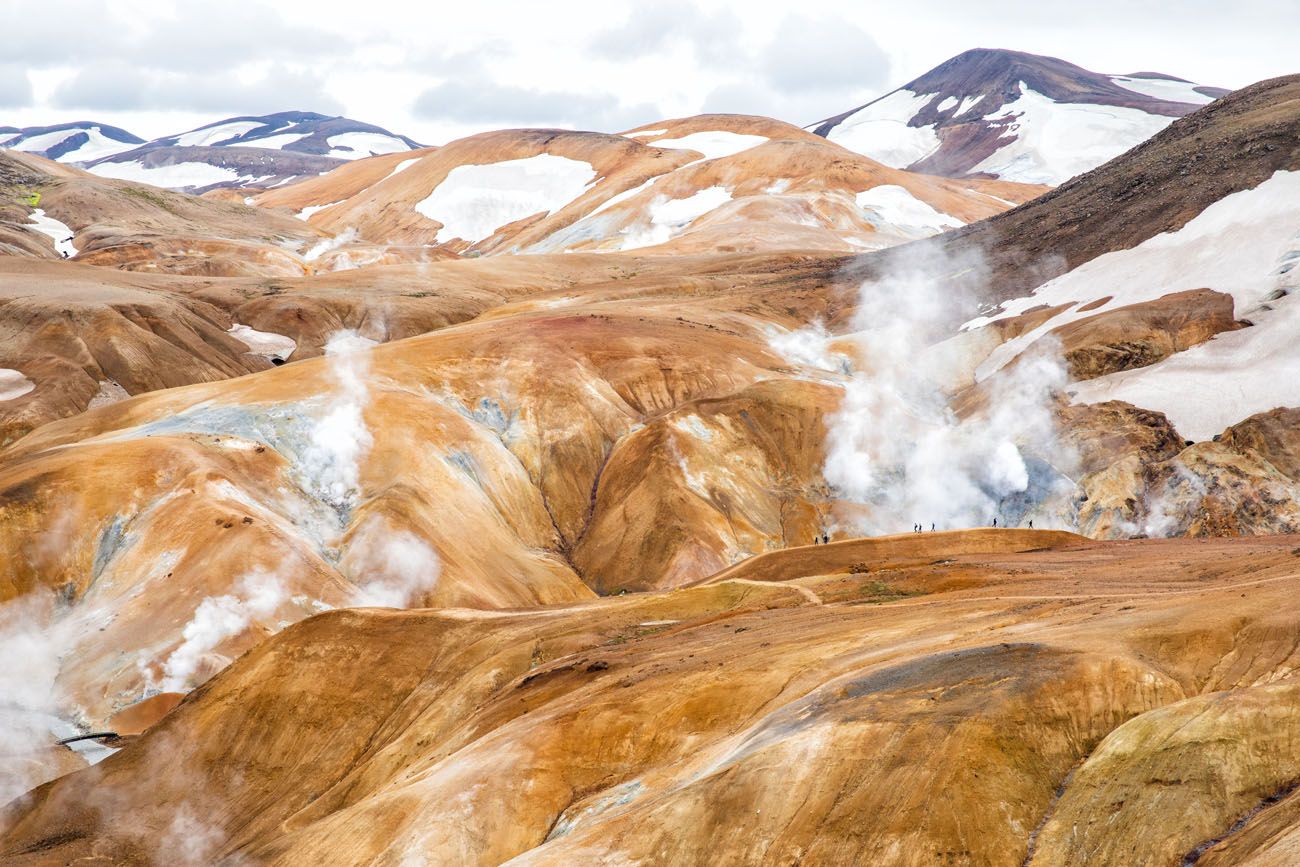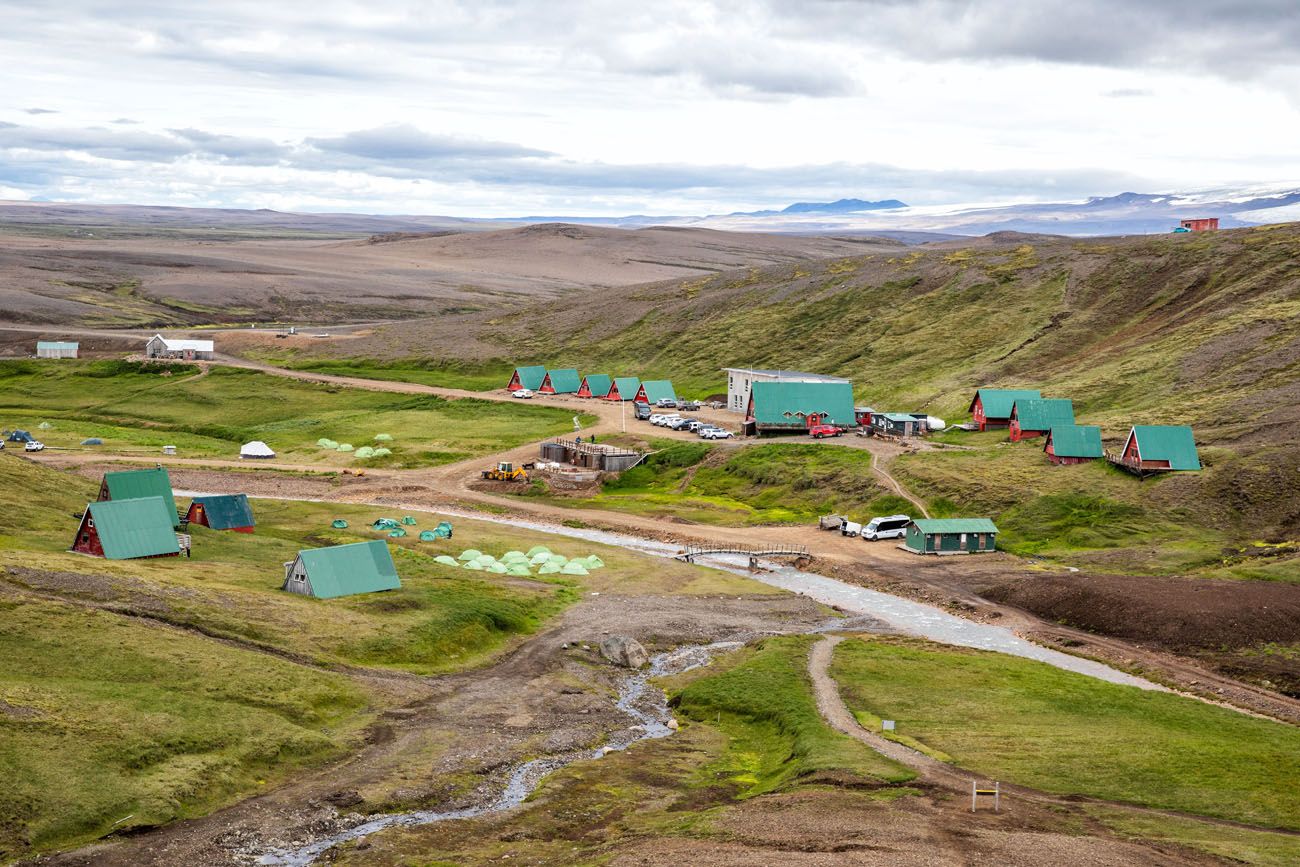 Spend the night at the Kerlingarfjöll Mountain Resort.
Important: The Kerlingarfjöll Mountain Resort is small and doesn't have a lot of rooms. Make sure you reserve your room well in advance (at least 4 months in advance but 6 months or more is ideal). There is also a campground here.
---
Day 6: Kerlingarfjöll
Driving Distance and Time: 200 km, 3 hours
Spend as long as you like at Kerlingarfjöll. Once you have had your fill, it's a long drive to south coast of Iceland.
Rest up and eat well today…tomorrow is the amazing Fimmvörðuháls hike.
Where to Stay on the South Coast
To minimize driving time, I recommend staying between Hvolsvöllur and Skógar. You will stay at this property for 3 nights.
Hotel Selja. This small hotel is located near Seljalandsfoss. It gets excellent reviews for its modern rooms and views from the hotel.
Nicehostel Seljaland. This budget property offers rooms for one to four people. It is located just a few minutes drive from Seljalandsfoss, which is a great location for getting to and from the Fimmvörðuháls hike and the south coast sights.
Lindartun Guesthouse. This is where we stayed and we really liked it. It is a bit out of the way, located in Lindartun, about 10 minutes south of Hvolsvöllur, but it is a good value for the money. Tyler and Kara stayed in the family room and Tim and I stayed in the bungalow which had a kitchen, living room, and one bedroom. Just outside of our door were horses. If you want to stay in a nice place, without spending a lot of money, and don't mind a little extra driving, Lindartun Guesthouse is a place to consider.
CAMPSITE & RV PARKING: Skogar Campsite
---
Day 7: Fimmvörðuháls Hike
This was our favorite day in Iceland and one of the best day hikes we have done in the world. 26 waterfalls, 1 volcano, 2 glaciers, and 3 unique landscapes all combine for one of the most extraordinary hiking experiences on the planet.
The Fimmvörðuháls hike is a massive hike. It's 25 km (15.5 miles) in length and done as a point-to-point hike from Skogafoss to Thórsmörk.
You will hike through a lush, green landscape along the Skoga River. The landscape changes when you follow the trail on fresh, volcanic soil between the glaciers Eyjafjallajökull and Mýrdalsjökull. Finally, you descend into Thórsmörk, a moss-covered, mountainous landscape.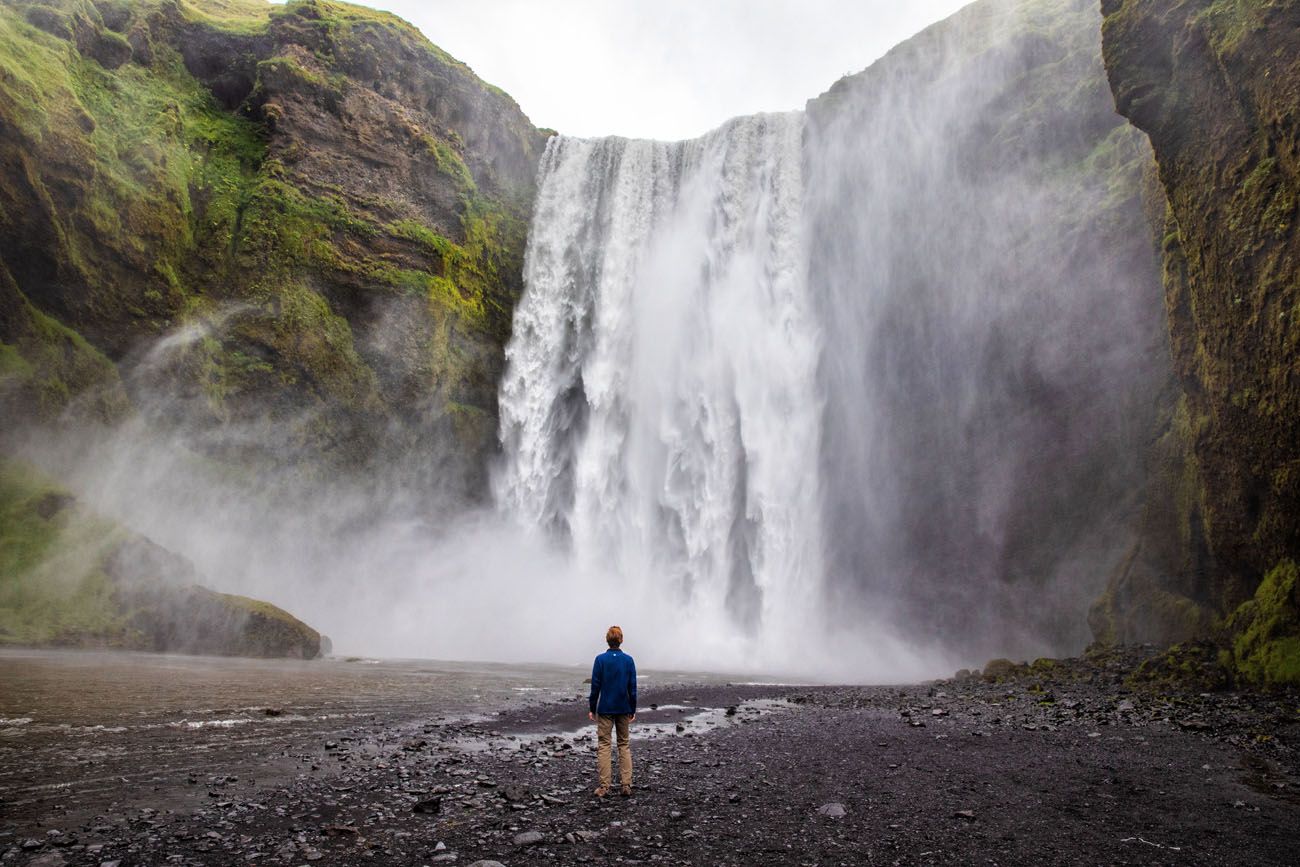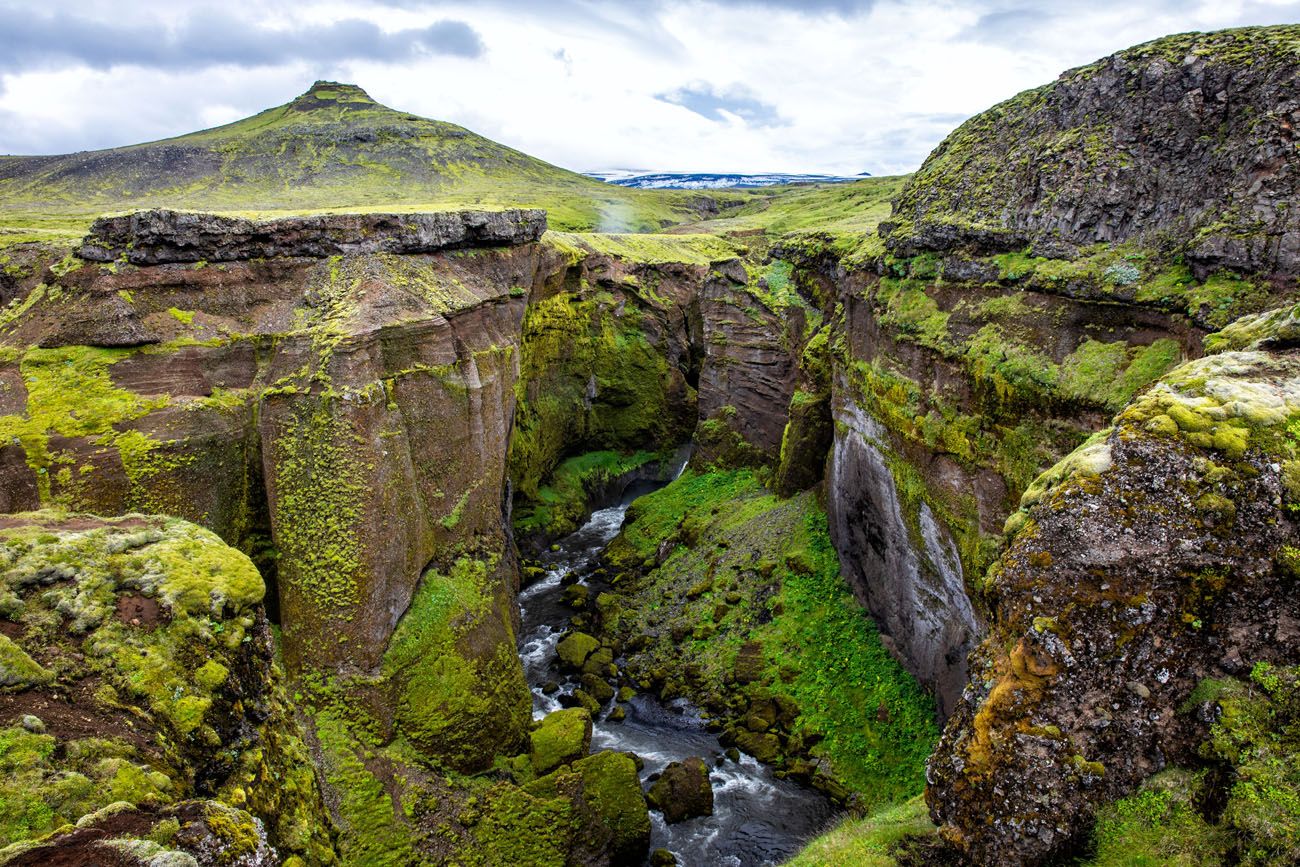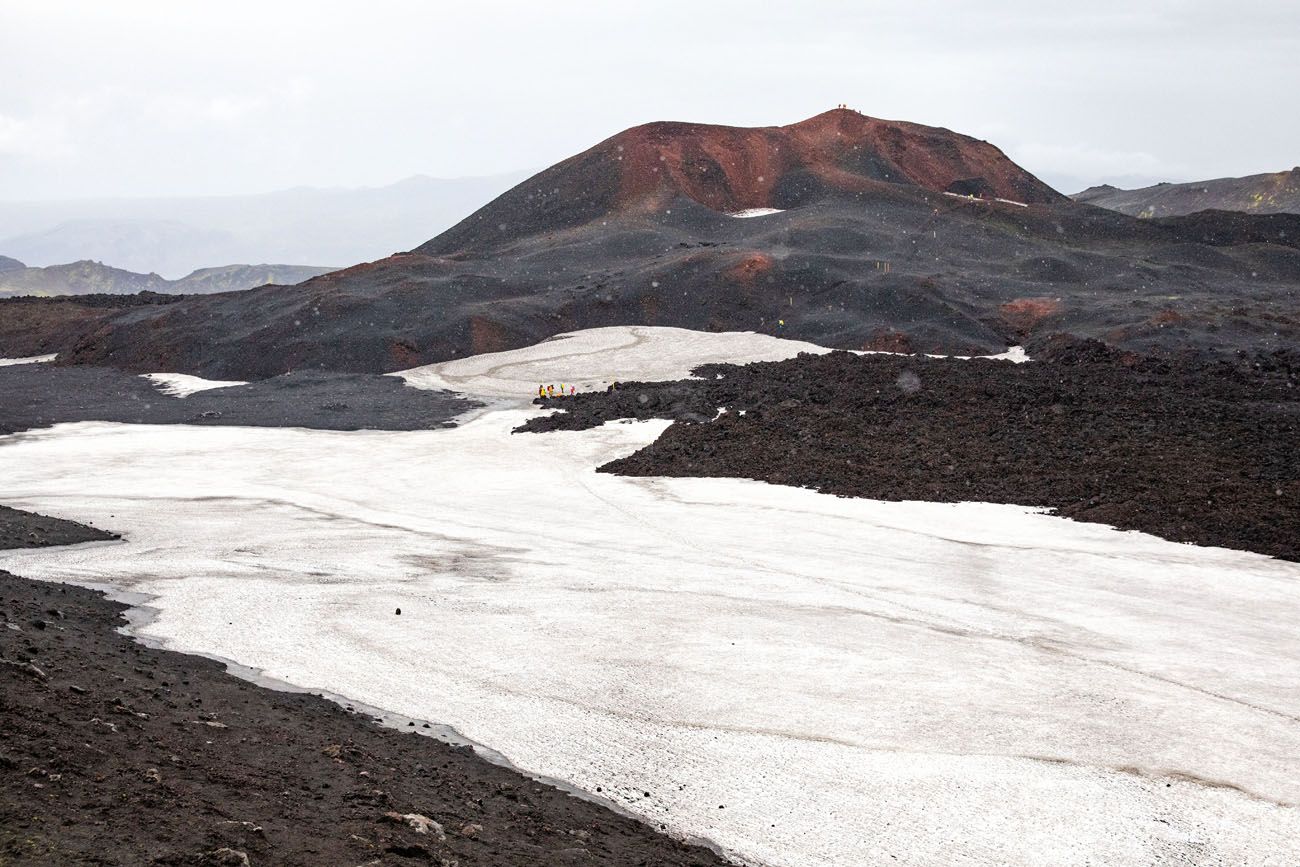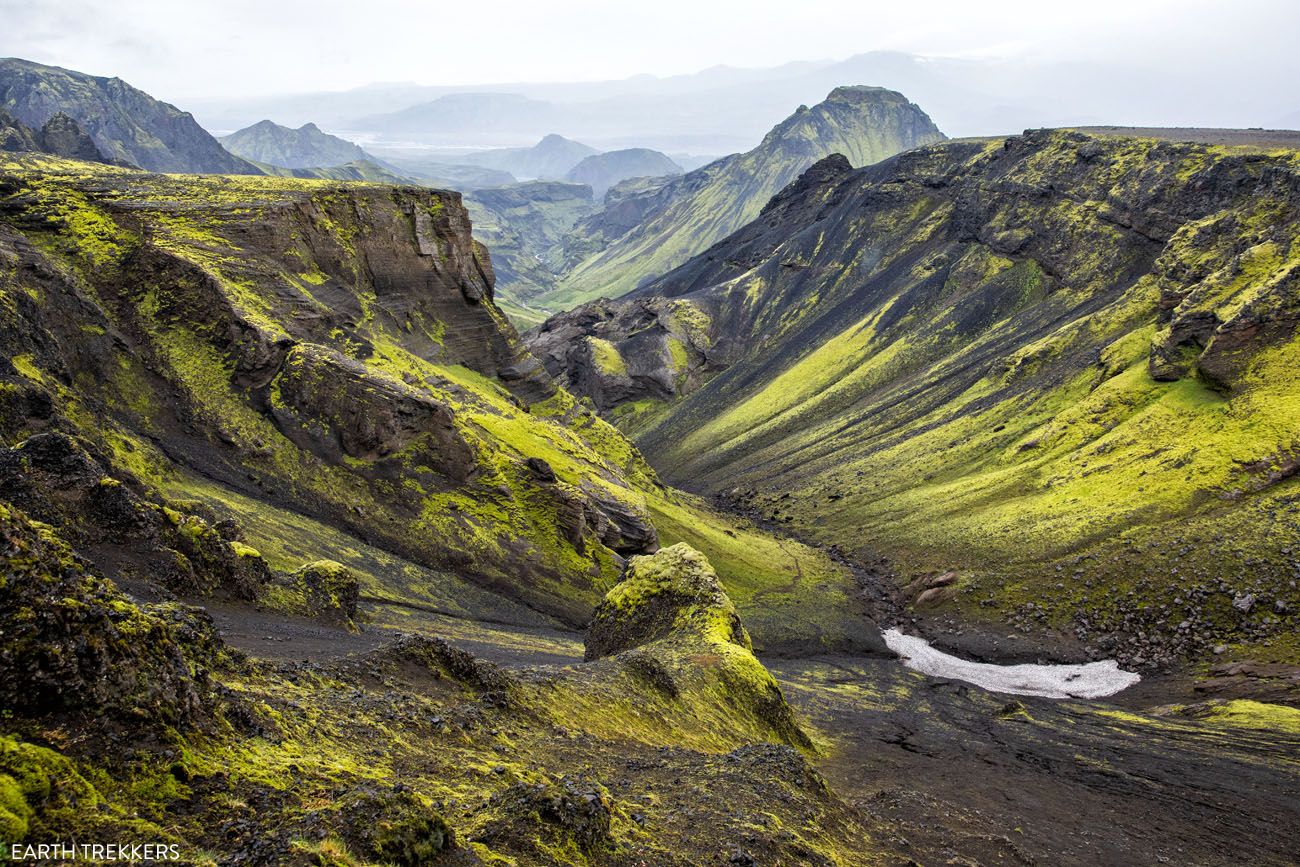 This hike is logistically challenging. You will need to arrange a bus to get you from Thórsmörk back to the south coast. Depending on where you parked your car, you might also need to arrange a taxi.
Sleep on the south coast.
---
Day 8: Glacier Walk
For another epic adventure in Iceland, spend part of the day walking on a glacier. There are two ways to do this.
Keep your driving to a minimum and go on a glacier walk at Solheimajökull. This glacier is much closer to where you are staying on the south coast, so if you think you will want a little down time at this point in the trip, this is your best option.
Your second option is to drive out to Skaftafell and walk on Vatnajökull, Europe's largest glacier. This is what we did and it was awesome.
We did the Glacier Explorer tour with Arctic Adventures and had an awesome experience. For three hours, we walked through crevasses and climbed up and over huge chunks of ice.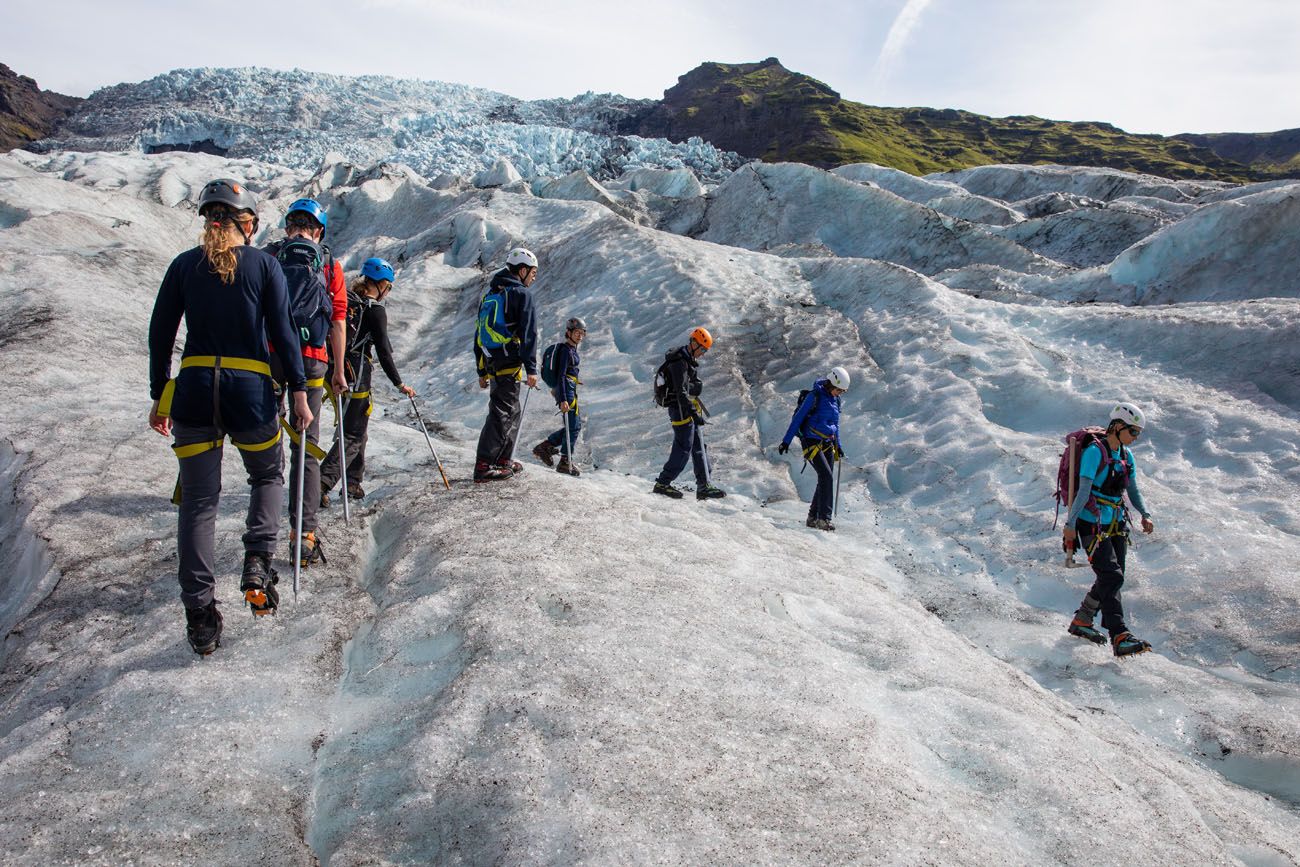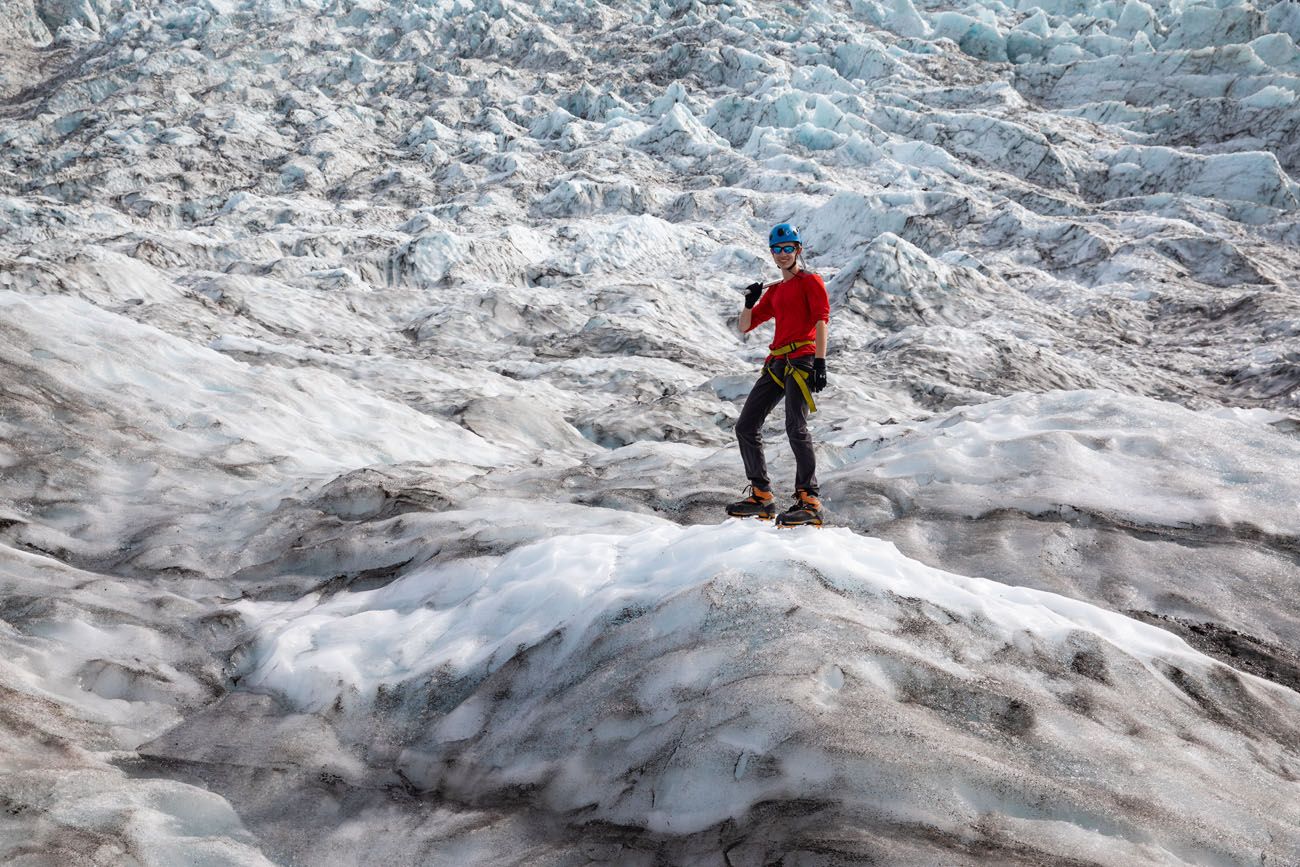 While in Skaftafell, you can also hike to Svartifoss.
If you don't mind a big driving day, you can continue past Skaftafell and visit Jökulsárlón Glacier Lagoon, Fjallsárlón Glacier Lagoon, and Diamond Beach.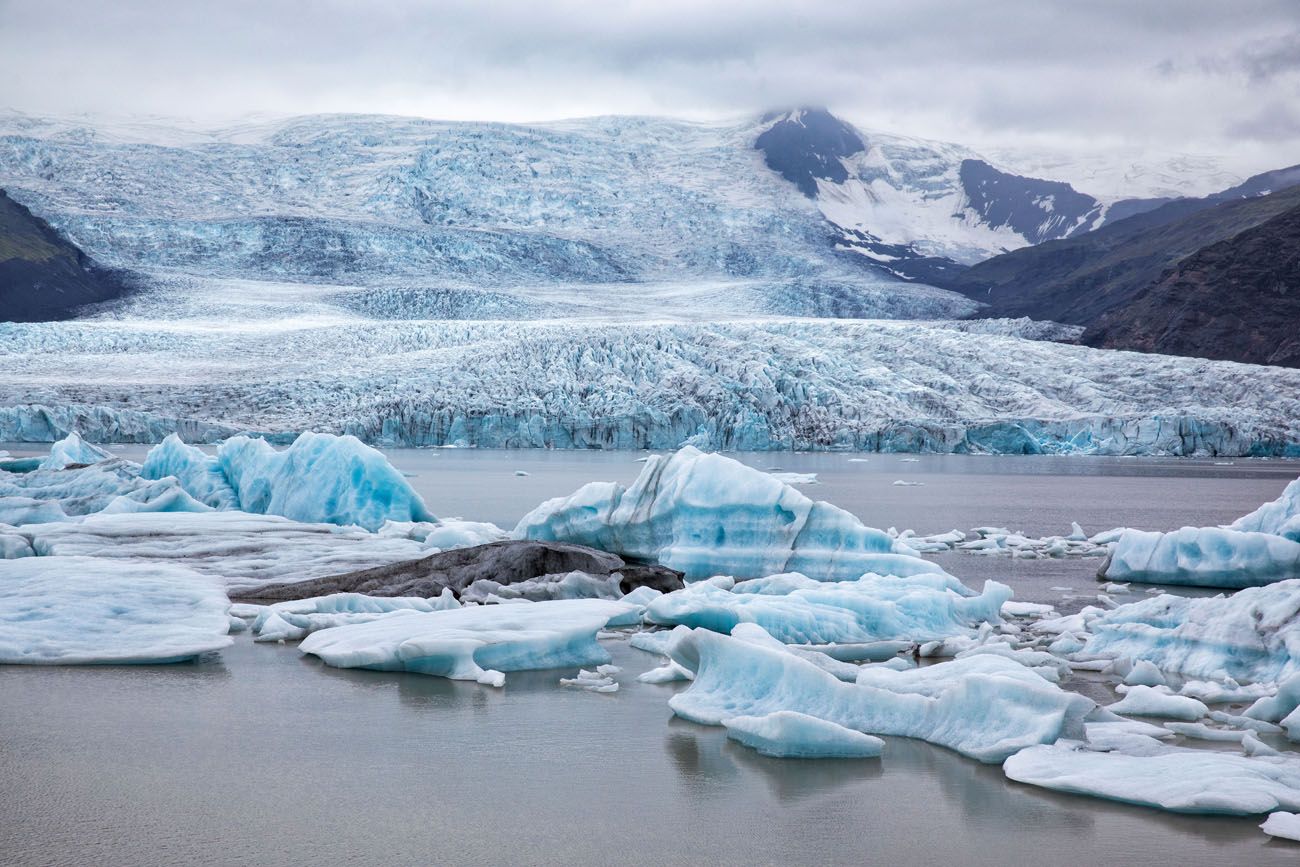 Fjallsárlón
Pro Travel Tip: If you visit Skaftafell, I recommend visiting Fjaðrárgljúfur on the drive back to your hotel on the south coast, just to save yourself another big driving day tomorrow.
About Glacier Walking Tours
Tours can range from just a few hours to all day affairs. Some glacier walks also give you the option to go ice climbing.
We recommend Arctic Adventures. We used them for both our glacier walk and for kayaking on Jökulsárlón, and had great experiences both times. They offer tours on both Vatnajökull and Solheimajökull glaciers.
Sleep on the south coast.
---
Day 9: South Coast Highlights
Driving Distance and Time: 250 km, 3.25 hours; if you go all of the way to Fjaðrárgljúfur: 385 km, 5 hours
Today, visit the highlights on the south coast: Fjaðrárgljúfur (if you didn't see it yesterday), Reynisfjara black sand beach, Dyrholaey Arch, Skógafoss, Seljalandsfoss, Kvernufoss and Gljufrabui.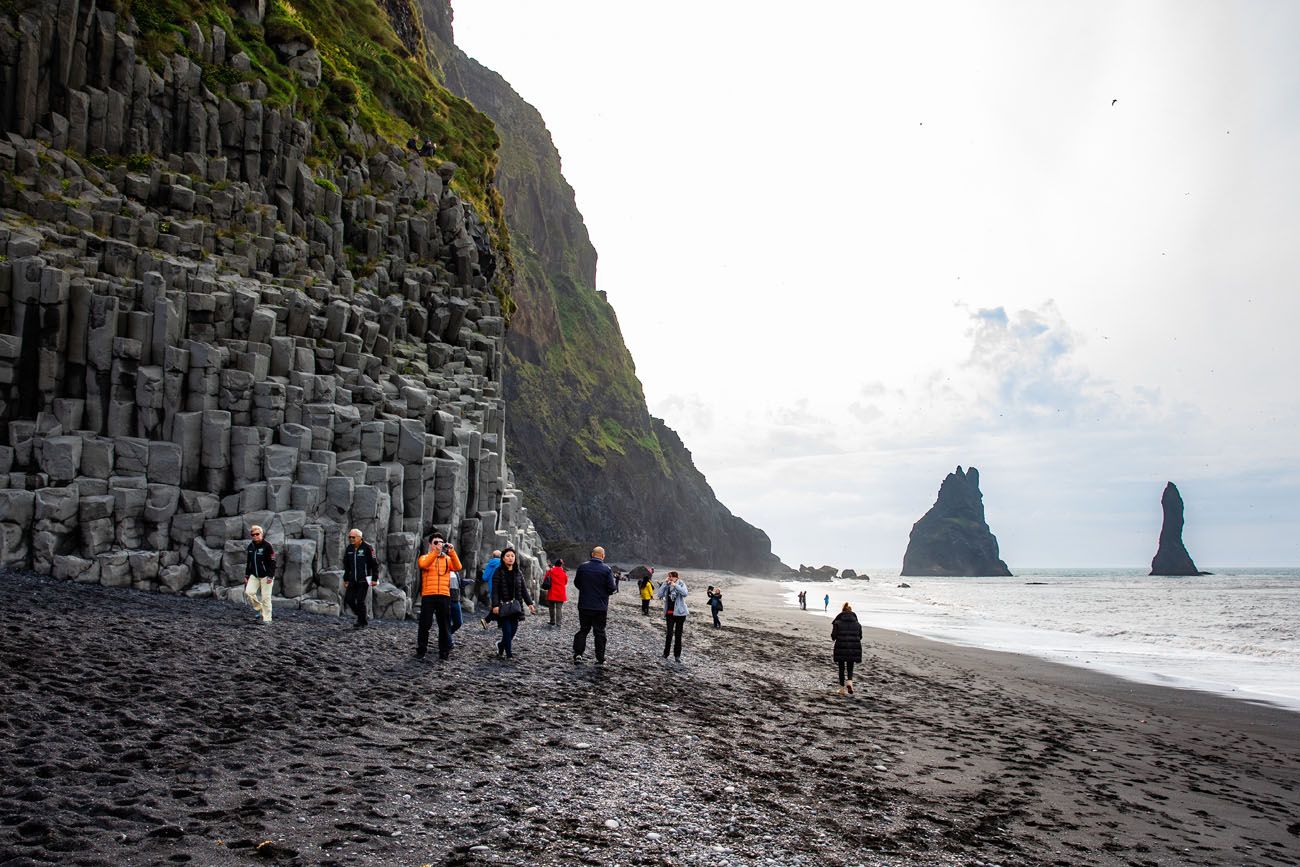 Reynisfjara Beach
Skógafoss is one of Iceland's most iconic waterfalls. You saw it at the start of the Fimmvörðuháls hike, and we liked it so much, that we went back the following morning for more photos.
Seljalandsfoss is an enormous waterfall that you can walk behind. Just a short walk away is Gljufrabui, a smaller waterfall that is tucked away in a canyon.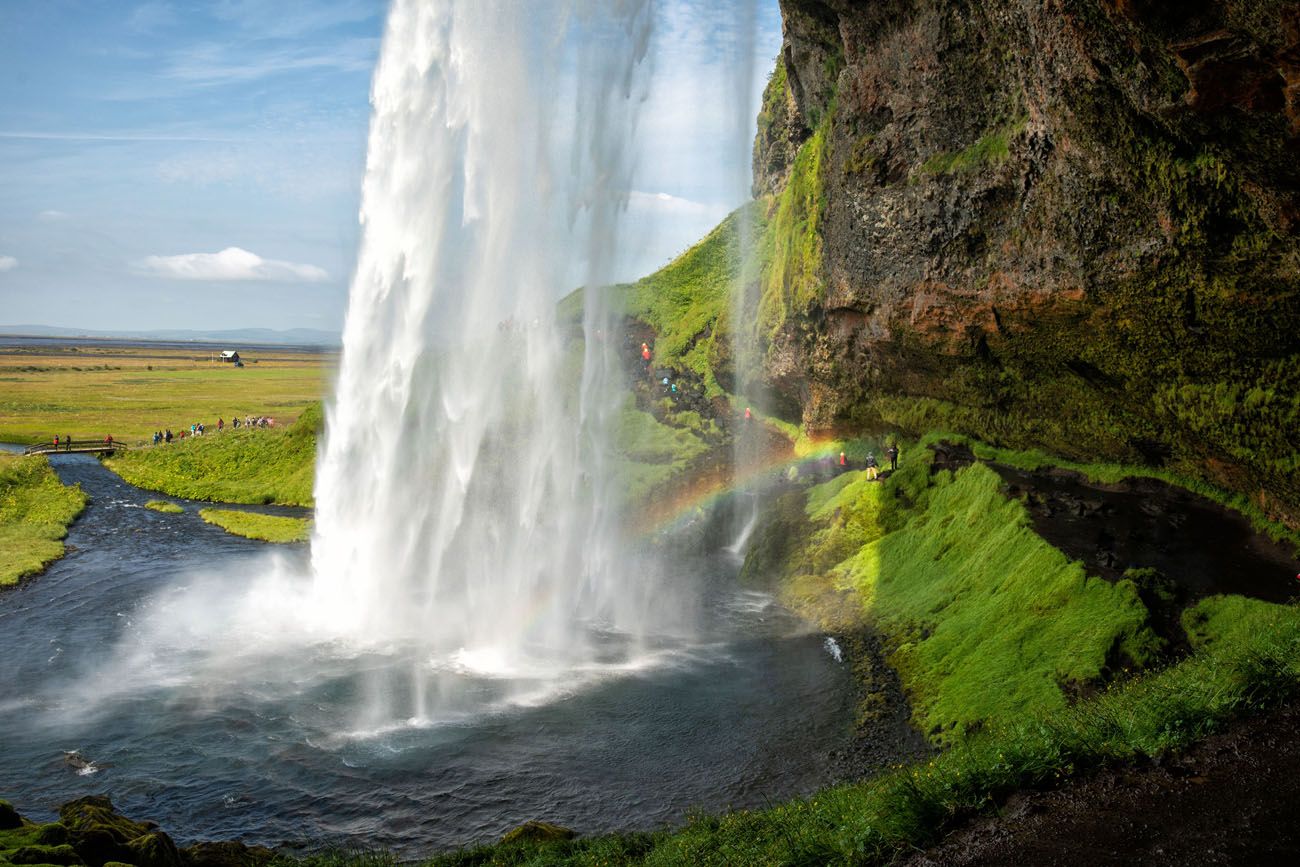 Kvernufoss is another beautiful waterfall to visit. It is much less visited than nearby Seljalandsfoss. Park at the Skógar Museum and it is a 10-minute walk to get to the waterfall.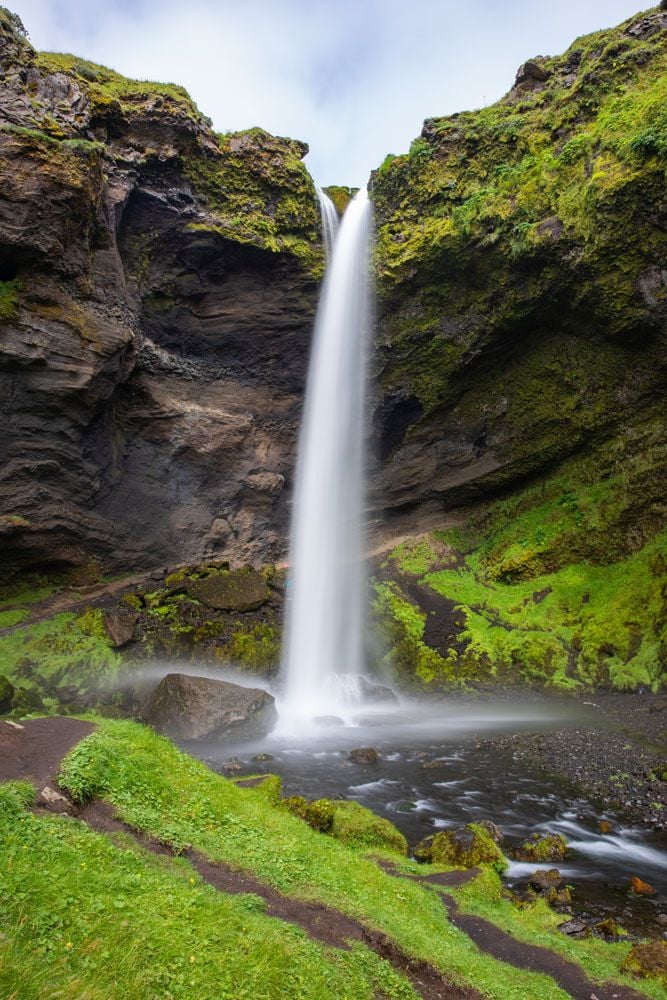 Note: This waterfall is located on private property. Stay on the trail and do not litter or leave behind any trash. Even if you do not have plans to visit the Skógar Museum, you will have to pay a small fee to park here.
The Solheimasandur Plane Wreck makes it onto a lot of Ring Road itineraries. However, we think it is highly overrated. To get here, it is a long, boring walk (4 miles round trip, about 1.5 hours) and once here, you'll most likely see people climbing all over the plane, despite warning signs forbidding this. Skip the plane wreck, and instead, visit Kvernufoss.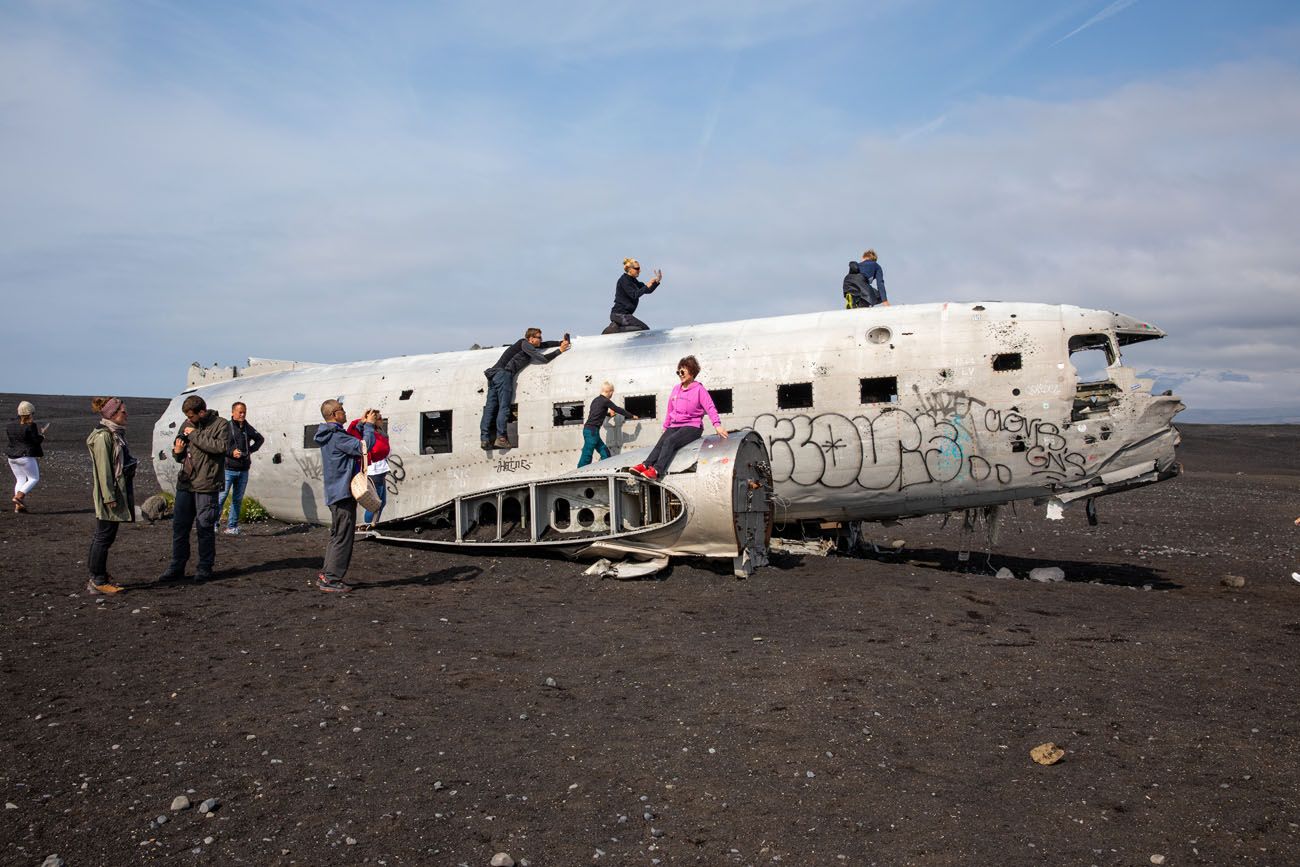 Tonight, spend one last night in Reykjavík, or, if you have an early flight tomorrow, consider staying near the airport.
Day 10: Fly home
Fly home or continue to your next destination.
---
How to Modify This Itinerary
With Less Time
If you don't have 10 days in Iceland, what should you eliminate?
Removing Silfra saves one day.
Combine the glacier walk (at Solheimajökull) with the south coast sights to save a day. This will be a very big day, but this eliminates another day.
Day trip into Kerlingarfjöll rather than spending the night here. This is not ideal, because I think spending the night at the mountain resort is one of the highlights of visiting Kerlingarfjöll. Plus, you will have a very long drive to get from Kerlingarfjöll to the south coast that evening.
With these changes, here is a sample 7-day itinerary:
Day 1: Reykjavík
Day 2: Glymur waterfall & Golden Circle
Day 3: Landmannalaugar Day Trip
Day 4: Kerlingarfjöll
Day 5: Fimmvörðuháls Hike
Day 6: Glacier walk & south coast sights
Day 7: Fly home
With More Time
If you have one or more days to add to this itinerary, lucky you! Here are two unique Iceland adventures to add to your trip.
Laugavegur Trek
The Laugavegur Trek is a multi-day hike through some of the most extraordinary landscapes in Iceland.
The Laugavegur trail is a 55 km (34 mile) trail from Landmannalaugar to Thórsmörk. This trek is typically done in 4 days and 3 nights, camping or sleeping in mountain huts along the way.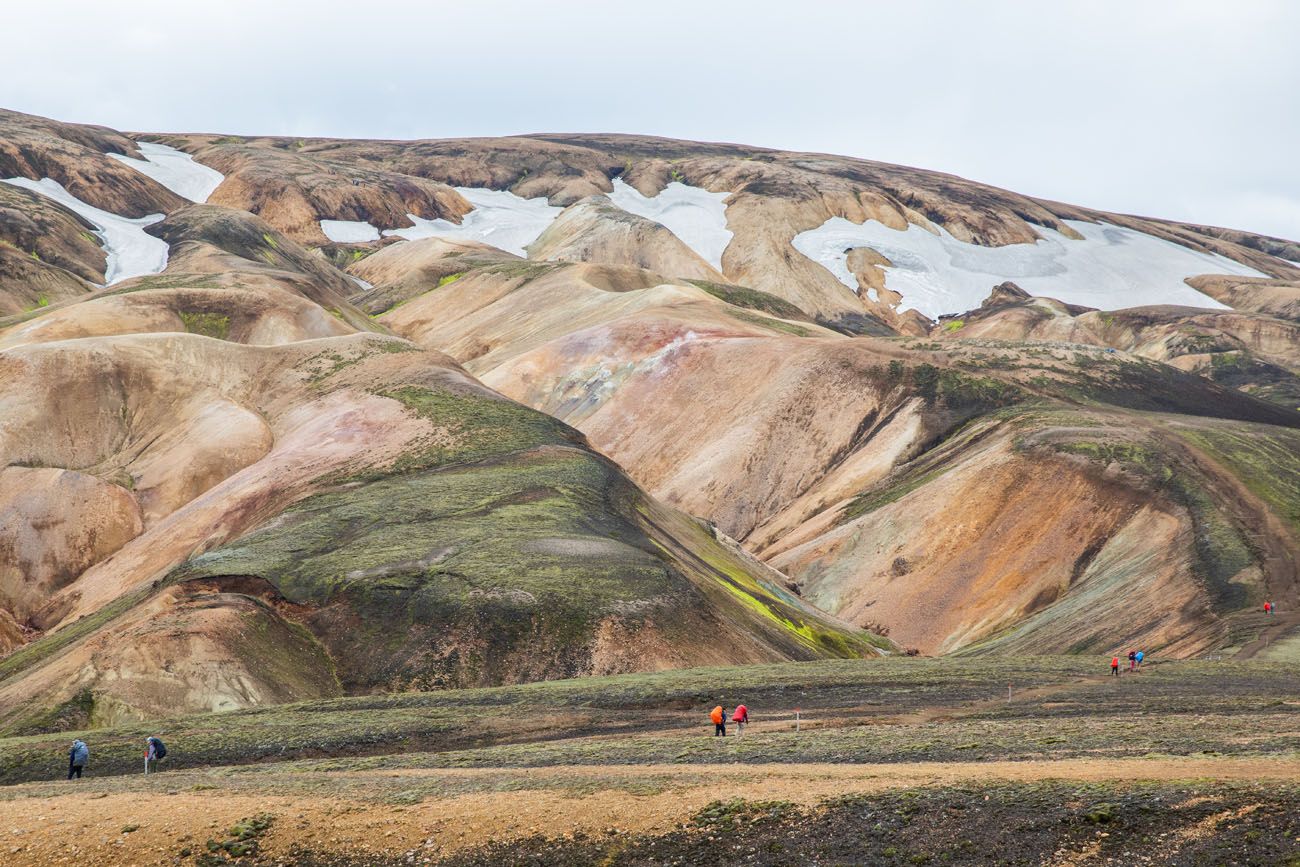 Once in Thórsmörk, you can keep going and hike the Fimmvörðuháls trail to Skogar.
You can do the Laugavegur trek from mid-July through mid-September, when the days are long and the trails are free of snow.
Adding on the Laugavegur Trek adds 4 days to this itinerary.
Snaefellsnes Peninsula
Snaefellsnes Peninsula is called Iceland in miniature, since it contains a sampling of many of Iceland's natural wonders: black and white sand beaches, a volcano, a glacier, lava fields, mountains, waterfalls, and craters.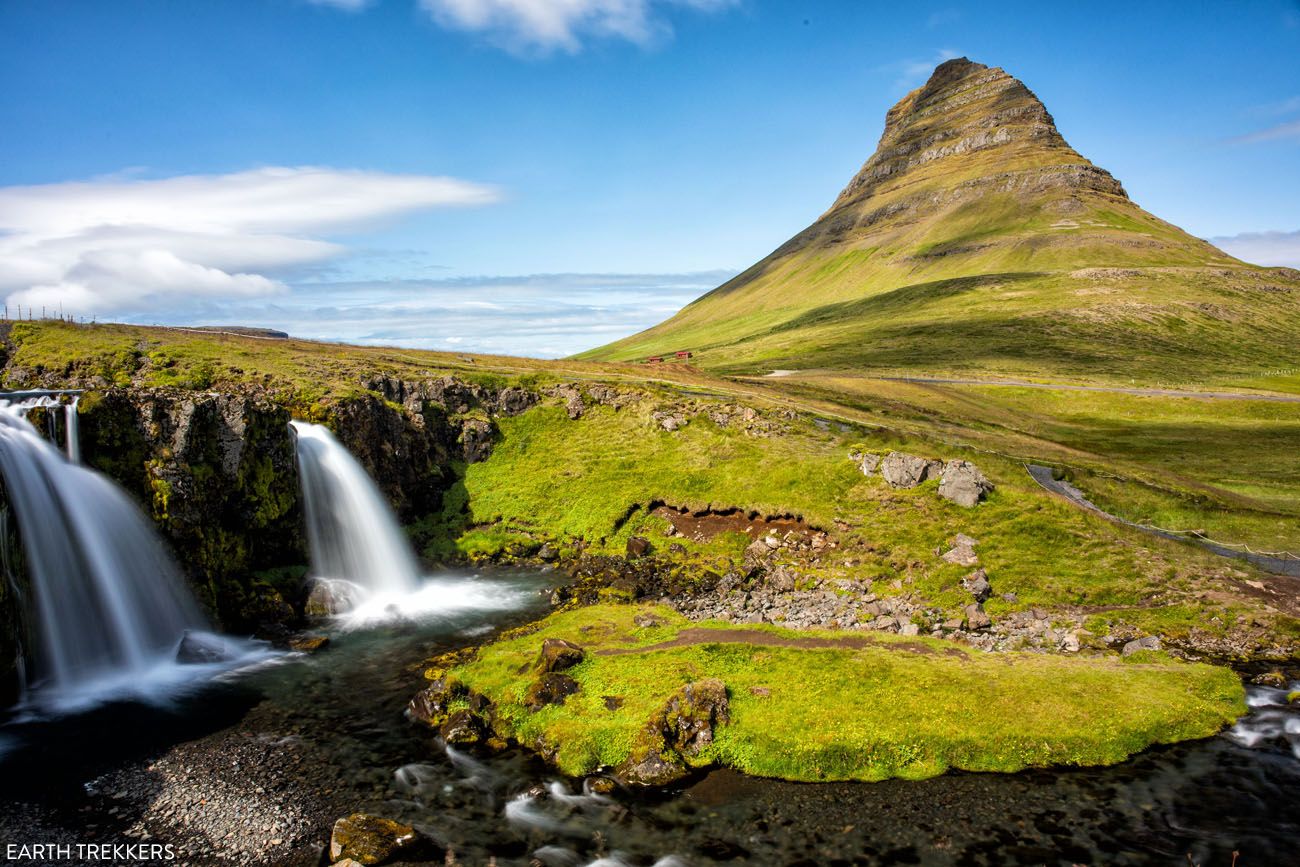 This is where you will find Kirkjufell, the iconic mountain that is one of Iceland's most photographed mountains. The coastal scenery is gorgeous and you have the option to climb to the summit of Snaefellsjökull, the glacier-capped mountain that dominates the peninsula (and can be seen from Reykjavik).
The Snaefellsnes Peninsula adds 1 to 2 days onto this itinerary.
Planning Your Trip
Rental Car and Hotel Reservations
For this itinerary, you will need to reserve:
A 4WD vehicle. A 4×4 is a vehicle that is authorized by the rental car companies to be driven on F-roads. Many of these vehicles are SUV's with AWD or 4×4 capabilities. For example, we rented a Kia Sorrento through Hertz and this was authorized as a 4×4 that could be driven on F-roads.
Hotels:
Reykjavík – 1 night
Golden Circle – 3 nights
Kerlingarfjöll Mountain Resort – 1 night
South Coast – 3 nights
Reykjavík or the airport – 1 night
We have not camped in Iceland, but from what I have read and learned from talking to other travelers is that you do not need to reserve your campsites in advance.
Average Trip Costs
Here are some estimated costs (all prices are in USD for the summer months):
4WD vehicle: $125 – $200 per day; larger SUV's, such as Land Rovers and Toyota Land Cruisers, cost up to $300 – $400 per day (and are unnecessary unless you plan to do river crossings)
Fuel: $2 per liter ($7.6 per gallon)
Bus from Thórsmörk to Seljalandsfoss: $45 per person
Taxi for Fimmvörðuháls hike: $160 (that's not a typo)
Campervan: $100 – $300 per day
Campsite: $10 – $15
Midrange Hotel, double room with two people: $200 – $300
High end hotel, double room with two people: $300 – $500
Meals can cost $20 to $40 per dish, depending on the restaurant. We typically saw prices averaging around $28 per dish, so for our family of four, we spent $100 to $150 per meal. To save money, we only dined in restaurants once per day and bought groceries at the Kronan or Bonus grocery stores. You will find these grocery stores throughout Iceland.
---
If you have any questions about spending 10 days in Iceland and this adventure itinerary, let us know in the comment section below!
More Information for Your Trip to Iceland:
You Might Also Like:
Note: This post contains affiliate links. When you make a purchase using one of these affiliate links, we get paid a small commission at no extra cost to you.